Investing in Cannabis
After decades of legislation preventing Hemp and Cannabis from taking part in the economy, across the globe things are rapidly changing, as more countries are easing legislation and enabling the cultivation and sale of Cannabis-based products which may create value for EasyVSTRs in the long term.
Silverleaf Investments is South Africa's first cannabis fund that allows investors to be part of this fast-growing industry. The Silverleaf fund is positioning itself across the cannabis market's value chain and aims to be a major role player in the industry and change the narrative around this transformative and misunderstood plant.
Since the United Nations changed its definition of Cannabis in 2020 and recognised its many medicinal and curative uses, the industry is making headlines as more and more new opportunities emerge. Globally, the industry is forecast to reach over $100 billion by 2030, as more & more nations join the list of countries legalizing and commercializing the cultivation of this plant.
Cannabis has been high on South Africa's economic growth agenda and has featured in the President's 2021 and 2022 SONA addresses. President Ramaphosa stated in his 2022 SONA address that the industry has the potential to create 130 000+ jobs and that favourable legislation is key to achieving this. Silverleaf Investments is committed to helping the SA government achieve their strategic development goals, which are:
Increasing capital raising, which excitingly stimulates capital for new ventures and local investment

Agriculture, agri-processing and beneficiation are the government's focus areas for job creation, rural economic development, and economic growth. By investing in Silverleaf Investments Limited you'll be contributing to the development of the country.

Encouraging community involvement, economic transformation, skills development, and SMME opportunities

Increasing export opportunities, thereby bringing foreign exchange earnings into South Africa
You can view the full Prospectus here or below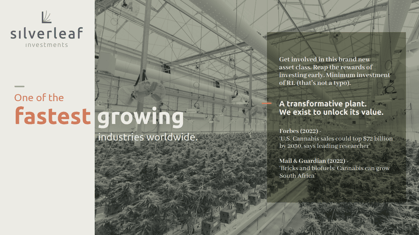 How to buy Silverleaf shares?
Silverleaf shares are available on EasyEquities under the new listings option in the EasyEquities app. Once the IPO is complete, shares will appear in your holdings under overview.
You can view how to find Silverleaf shares on EasyEquities App here or click the company logo below.
How much per share?
Per the prospectus one share costs R1 000 HOWEVER for this exclusive Easy Equities IPO, you can invest any amount you wish - for as little as R1 you can become a shareholder!
Will I be able to sell the shares?
The IPO has a lock-in period of 5 years, whereby, if an investor withdraws within the 5-year term, there will be a 20% penalty on the amount they invested. This is only if they withdraw within the 5 years.
eg. If you invest R100 and withdraw the full amount after 3 years, you will get R80 back even if there has been growth in the investment.


Login to view Silverleaf Investments shares
on EasyEquities