We love TFSA (Tax Free Savings) and to make it even #Easier for you to fall in love, you can now get swiping until you find the perfect match.

Take a look at the very sexy and smouldering #CoreShares, #SATRIX and #ABSA profiles in the link below, Get Swiping!



Have a look at what our different team mates have to say about TFSA as well as some frequently asked questions, performance of the ETF's as well as how TFSA can help your wealth to grow.
How TFSA can help you build your wealth!
Assuming you invest R2750 per month when a child is born, we've matched with the Satrix Divi ETF which has an annualised return of 9.87% (Since October 2007 as per December 2018 factsheet)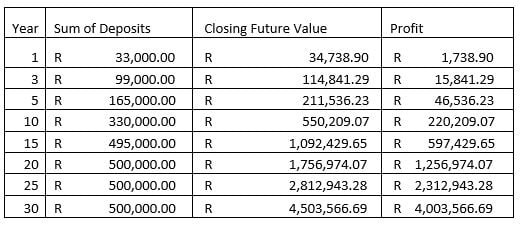 * Past performance is no guarantee of future performance
According to the table above, you would be able to gift your child R1 756 974.07 at their 20th birthday, of which R1 256 974.07 is profit, completely Tax-Free.
Let's look at the performance of the #SwipeMatchInvest ETFs

Like Facebook Stalking your crush, here are the different factsheets for each of your potential matches, perhaps you see something you like.
The below graphs shows performance, due to different inception dates, some info is shorter than others.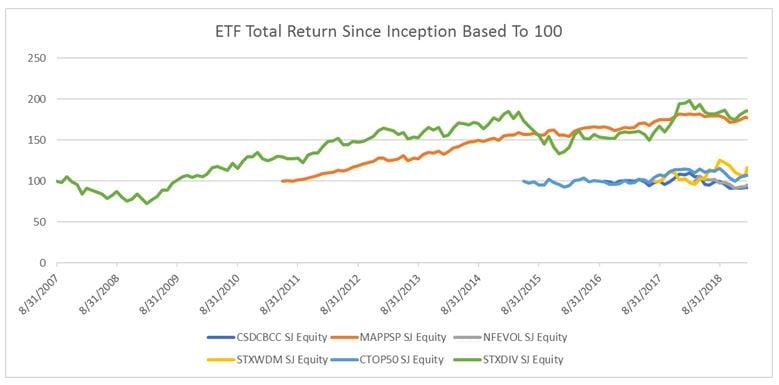 Some Frequently asked questions
What is a TFSA?
Answer TFSA is an investment account that was introduced by the government , to encourage individuals to save.
TFSA (Tax Free Savings Account) is an additional investment that comes with the Easy Equities account which is 100% tax free on all profits / earnings made provided the investor remains within the annual and life-time thresholds.
How much can I deposit in a tax – free savings account ? What are the limits?
You can invest up to R33 000 tax free every tax year (March 1st to end-February of the next year) and up to R500 000 over your lifetime. These limits are legally set and apply across all tax-free products you invest in (not per product).
What are the benefits of a tax – free savings account?
As the name implies, all profits / earnings within the TFSA are 100% tax free. Neither the income nor the capital gains earned in a TFSA will be taxed (provided the investor remains within the annual and life-time thresholds).
Flexibility
The investor can deposit (within limit) or withdraw whenever he / she likes and can choose how they want to invest - with lump sums, regular investments or a combination of both.
Variety
The EasyEquities TFSA allows investors the choice of investing in over 50 different approved ETFs ( Exchange Traded Funds), or in a variety of different Investment Bundles to suit your particular risk profile.
Growth potential
Any profits made on the investment do not form part of the investors annual or lifetime limits. This means that you can reinvest the interest, capital gains and dividends, growing your investment even more!
If I don't invest up to the R33 000 annual TFSA limit per tax-year does the limit rollover?
No, unfortunately not. There is no rollover with limits
By way of example - if you contributed only R10 000 in year 1, you cannot contribute R56 000 in year 2 to make up the deficit from the previous year.
Can I open a tax-free savings account for a child, spouse or family member?
Yes, you can open a tax-free savings account for your children, spouse or family member. In fact, it's one of the greatest gifts you could give.
We are working hard on making this process Easy, but unfortunately for now due to some of the complexities around accounts of this nature, it's a manual process for the time being.
Once you've completed the forms and gathered the documents required, please forward them all to newaccounts@easyequities.co.za and we will open the account for you.
Do I pay tax on foreign dividends in my TFSA?
Yes, unfortunately with some foreign dividends you do.
What goes on in your Tax-free Savings account is exempt from local-based taxes (Capital gains, Dividends withholding tax, securities transfer tax).
However, in the case of a dividend paid by a dual listed company, where the dividends tax is withheld by the foreign company paying the dividend, those dividends are not exempt from the dividends tax associated with them and will be deducted from your account.
The only good news, is that we take care of that on your behalf.
In your transaction history, you will see a line item with the dividends being paid into your account and then a further line item with the dividends tax being charged against them.
Until Next Time
Happy investing from team Easy
Brad K, Musa, Idah, Faith, Melanie, Paul JVV, Waylon, Zama, Lesedi, Mphilo, Christiaan