2021 is rapidly approaching its end and before we know it the end of the 2022 tax year will be upon us.

The question is what is a Tax Free Savings Account (TFSA)? Should I use mine and what vehicle and investment to pick? Unfortunately there is no one perfect fit for everyone. Luckily, there are a variety of options to suit everyone's needs and wants.

We are continually expanding our range of TFSA products on EasyEquities to help you make the best investment for you, but with this expanding range comes more choice. If you are a bit like me and need to understand something before you commit to it, I have tried to explain our offering in a simplified way below with a couple of links to research and videos to help.

A Tax Free Savings Account allows you to invest up to R500 000 without paying any tax on the profit you make on your investment, the dividends you receive, or the interest you might earn on cash.

There are a couple of restrictions though:


You can only invest up to R36 000 within a financial year (1 March – end Feb) in this account.
You can only invest in Collective Investment Schemes (ETFs & Unit Trusts fall under this category) and not single shares.
If you exceed the annual (R36 000) and lifetime (R500 000) limits, SARS will penalize you - 40% on the excess.
Any amount that you withdraw from your account will count towards your annual and lifetime limit. If you have deposited R36 000 and withdraw R15 000 in the same year, you cannot deposit any more funds as you have already used your R36 000 deposit allocation.



For more info around TFSA see our FAQ's HERE

The question before deciding what TFSA vehicle to invest in you have to ask yourself is what exactly are you looking for?
If you are looking for a bit of help and are you a fan of active investing (takes a hands-on approach and requires that someone act in the role of a portfolio manager. The goal of active money management is to beat the stock market's average returns and take full advantage of short-term price fluctuations) but you will have a higher fee. Then Unit Trusts might be for you
Do you want someone else to

actively manage

manage your investment for you based on your risk score? Then a bundle may be for you.
Or are you a fan of passive investing and just want to hold for the long - term and track an index. The ETFs might be for you.
Luckily whatever you are a fan of and need we have created two platforms that will help you choose and compare Bundles and Unit Trusts on EasyWealth and the ETFs on EasyETFs.
Lets start by breaking it down into the investment vehicles we have on offer to invest into your TFSA and then look at specific instruments in those vehicles.
Bundles
A bundle is an investment portfolio that is owned by an individual investor but looked-after/managed by a professional money manager, which they receive a fee for in return. Bundles are made up of a variety of ETF instruments and are put together with a Risk score in mind.
For more info around Bundles see below:
ETFs
Exchange-traded funds (ETFs) are passively managed investment funds that track the performance of a basket of pre-determined assets and is a collection of individual assets. That can invest in stocks, commodities, bonds, currencies or a mixture of different assets to give you basically anything your heart desires… In the investment world.
For more info around ETFs visit
Unit Trusts
A unit trust is a collective investment scheme (CIS) which enables you to pool your money with other investors into a single portfolio. The portfolio is divided into equal portions called "units" and each unit is valued daily. The "unit price" is based on the value of the market value of the instruments in which the pool of money is invested.

The portfolio is actively managed by the appointed asset or investment manager in accordance with its theme. These could include value, where the manager invests your funds in companies that appear cheap relative compared to the market, or geographical, such as emerging markets.

Collective investment schemes such as unit trusts are accessible, flexible, well-regulated, and transparent medium to long-term savings vehicles.
For more info around Unit Trusts see below:
I hope this blog helps or at least gives you a better understanding of some of the products on offer on the EasyEquities platform.
Happy Investing!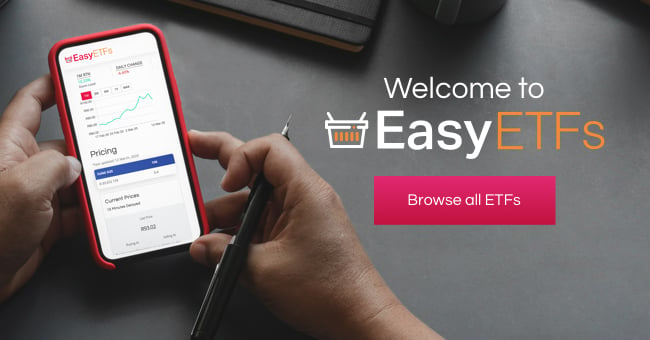 Any opinions, news, research, reports, analyses, prices, or other information contained within this research is provided by an employee of EasyEquities an authorised FSP (FSP no 22588) as general market commentary, and does not constitute investment advice for the purposes of the Financial Advisory and Intermediary Services Act, 2002. First World Trader (Pty) Ltd t/a EasyEquities ("EasyEquities") does not warrant the correctness, accuracy, timeliness, reliability or completeness of any information (i) contained within this research and (ii) received from third party data providers. You must rely solely upon your own judgment in all aspects of your investment and/or trading decisions and all investments and/or trades are made at your own risk. EasyEquities (including any of their employees) will not accept any liability for any direct or indirect loss or damage, including without limitation, any loss of profit, which may arise directly or indirectly from use of or reliance on the market commentary. The content contained within is subject to change at any time without notice.