EasyEquities Youser, investor and entrepreneur Daniele Ferreira has been with Easy since inception- 2014. We were interested in finding out about his start in the investment space, and the role investing plays in his plans for the future. From my correspondences with Daniele I have realised he is a naturally meticulous person, a trait that makes for a very active and engaged investor.
We delved into the traits and experiences that brought Daniele here in the first place. "I've been the saver type since childhood - I still remember depositing my first R50 and learning about cash interest." It was during highschool that he "became curious about the power of investing and compounding." Early on Daniele understood that interest could be a friend, not a foe in your personal finances.
His adventure with EasyEquities began shortly after its establishment, being among the first to open an account, and watching the EasyCommunity grow. "My mother forwarded the first EE investor challenge email to me." It's from there that he checked out the cost profile and found what he was looking for: "EE offered a low-cost, simple and less intimidating entry point, this made the decision quite easy for me."
Daniele's professional journey started after graduating as an engineer, thereafter starting a company that "optimises vehicle routing and sport league schedules." Balancing business and investing, Daniele hopes to one day live off of his investments. "Ideally, I will be covering all my living expenses through my investments. This should allow me the freedom to choose whether I want to work or pursue passion projects."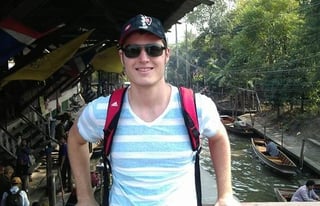 But where does get some of his insights from? He explains that he's a regular listener of Just One Lap's podcasts. One such resource that his desire to learn and know more was the FIRE (FInancially-free, REtire early) movement. "[It is] about how these normal people work out how much they need to save for retirement, and their journey getting there." Daniele continues, "Based on what I have read and learned, I now favour a passive globally diversified index-tracking approach to investing." In what is referred to a Core-Satellite strategy, Daniele invests heavily in ETFs, with smaller portions of his investments going to shares.
"In my ZAR account I like the Satrix40, Satrix MSCI World, Discovery, Purple Group and Santova. In the U.S space I own the Vanguard Total World (Intl), and iShares AA ETFs (for its exposure to China and India). VISA, Alphabet, Alibaba and Amazon are shares I like for their moat's."
While, to me at least, he sounds like a pro in the investment space, he maintains that the first barrier he had to investing was getting used to industry jargon. Having found a less intimidating platform that would allow him to get into the investment space, Daniele has serious plans to achieve the financial goals he has set. "Budgeting, investing regularly and staying invested are key for me."
Daniele took a chance on EasyEquities four years ago because he believed "Investing does not need to be scary, complex or only for people with lots of money. Investing is in your control, whereas winning the lotto is not."
@standwanongauza