EasyEquities and the EasyCommunity want to play their part in supporting South Africans affected by the COVID-19 outbreak. That's why we've created a feature on the EasyEquities platform that invites investors to donate to the Solidarity Fund.
The Solidarity Fund is an independent fund established by the government to support the vulnerable and those affected by the outbreak of Coronavirus. The economic impact of Covid-19 is going to be big, and we believe everyone can step up to see us through as a nation. You can choose to donate either R5, R50, or R500 to the Solidarity Fund.
The donation is made on the share purchase page on the platform. All you need to do is to make sure you have enough funds in your available cash. This donation feature is available in the EasyEquities ZAR and TFSA accounts.
Here's how it would look: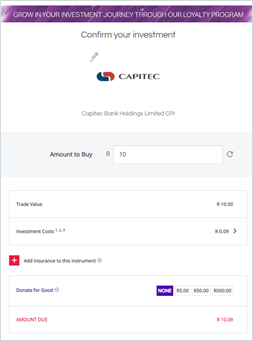 In the spirit of Ubuntu, EasyEquities has joined the cause to combat COVID-19. We can't wait to see how our community responds to the call. Stay safe, stay Easy.