Our national lockdown and the world-wide COVID19 crisis is testing all of us – individuals, companies and society at large.
EasyEquities has donated over R130 000 toward the fight against COVID-19 in South Africa, with R30 000 coming from donations made on the platform by Easy Users, and R100 000 coming directly from the business.
Even though EasyEquities promotes wealth creation and personal investment, I am super proud of this growing achievement going toward the bigger picture. We're investing toward the country and supporting the Solidarity Fund that our President announced on the eve of lockdown. Queue the national anthem!
Now the thing is, this is only the beginning. With this and other initiatives around the country, I hope this spells out the beginning of the end of Coronavirus on our shores. Optimistic? Sure. Maybe a bit of hope and positive perspective is what we need as a country. And you, the Easy Community, are doing more than just sending out good vibes. I have been extremely moved by and proud of the hundreds of users who have already donated tens of thousands of Rands via our donate functionality - see image below.
How to donate directly from the platform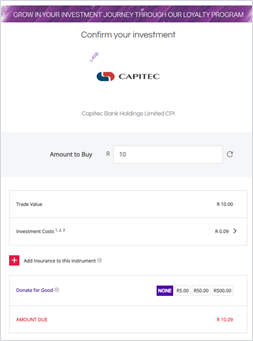 The Solidarity Fund is an independent fund created by government, aimed at combating COVID-19 in the country. Donations to the fund will be administered in support of those affected by the Coronavirus pandemic in SA.
All proceeds and donations made on the EasyEquities platform will go out to the Solidarity Fund. All of it. No weirdness and hidden fees coming to us. Our tradition is transparency, and this instance is no different.
#InItTogether