Busisiwe Ngobe started her journey as the newest member of TeamEasy only a week ago, but has been part of the EasyEquities community for 2 years already. Busi is a thrillseeker (bunjee jumping is one of her favourites) and is passionate about education, here's her investment tale…
Misconceptions about investing have been prevalent in my life from a very young age. I also convinced myself over time that investing is for the wealthy and that I had to patiently wait for my "Big Break" in life to afford investing. Well, all of that changed in 2016 when I discovered the power of EasyEquities - here is my story of how I untangled myself out of years of misconceptions.
I am Busisiwe Ngobe, a 23-year-old millennial who is on a quest to attain financial freedom. My journey as an investor only began when a knowledgeable family member discussed investments with me.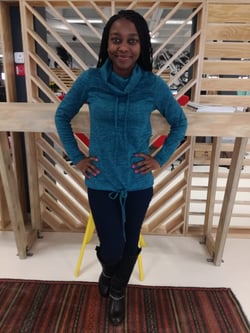 I had always believed that investing was only for the rich with millions to spare, but that family member opened a brand-new world that I found fascinating. I started exploring the world of investments by reading about all the new terminologies – Exchange Traded Funds (ETF's), Unit Trust Funds (UTF's) and ventured into finding the best and most suitable online investing platform. The Moneyweb website was my haven; in my opinion it provides the best financial news and investment research content – I fell in love instantly. Little did I know that this is the platform that would introduce me to my gateway to investing. This is where I was introduced to EasyEquities and I was amazed that an online investment platform could be so attractive and simple to comprehend and use. Easy Equities was my favourite without a doubt because of its 5 factors – 1. Simplicity, 2. Aesthetics, 3. Intuitiveness, 4. Easy and last but not least 5. Fun. EasyEquities was my slam-dunk into the world of investing.
Never have I thought that I would be given the opportunity to invest the little I had. I won't lie and say I jumped in immediately… it took some time because I was not confident enough to start. I did not know which stock, or ETF to buy. But the demo account and research portal was extremely helpful; and the R100 000 in practise money and investment insights really came in handy. There are some stocks and ETFs I purchased on the demo account, which I wish I had bought in my real account due to all the returns I could have reaped.
The first investment instrument I bought was an ETF in my TFSA for R250. I bought an ETF because it has low risk and it is also diversified. Since that moment of purchasing my very first ETF, I never looked back. I have read up more about investing, I am empowering myself and others around me to invest.
Connect with Busi on Twitter @Queen_B_Ngobe