The Johannesburg Stock Exchange hosted the finance event of the year in partnership with EasyEquities. On 10 August, hundreds of hopeful market participants (and, of course, newbie and seasoned investors as well) descended upon 2 Gwen Lane in Sandton for the occasion. Despite the event name, males were allowed to (and did) attend, but this is not about them. This is about the women and girls that make the industry a seriously fun and safe space, changing discourse and leveling up.
Johannesburg Stock Exchange team
"Leading from the front"
With 51% of the JSE staff being made up of women, we're seeing change happening from the front. From JSE non-executive Chair(wo)man Nonkululeko Nyembezi, to CEO Nicky Newton-King and CFO Aarti Takoordeen, we're witnessing a revolution in gender participation within the stock market industry on our shores. While Head of Marketing, Cleola Hadebe, opened the event with an insightful speech about women empowerment, and the ways in which the Johannesburg Stock Exchange is changing discourse in the country.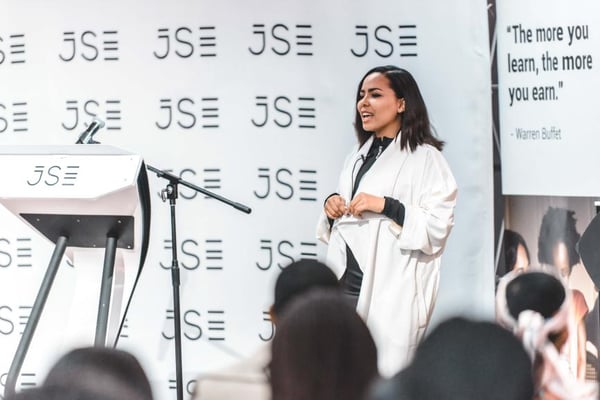 (Cleola Hadebe - JSE Marketing Manager)
Anthea Gardner (Cartesian Capital)
"Make your money work for you"
Delving deeper into recognising opportunity in the stock markets, Keynote speaker and Cartesian Capital founder, Anthea Gardner, gave a talk about understanding 'Who's who in the Zoo.' Anthea briefly highlighted the value in diversification and venturing into different markets. As an asset manager herself, we've partnered up with Anthea to bring you the #Invest bundles on the EasyEquities platform. These products are your co-pilot to investing,
Rapelang Rabana (Rekindle Learning, Yeigo Communications)
"Investing in yourself"
What's the point in making monetary gains if you're not looking to grow yourself as an individual? Entrepreneur Forbes 30 under 30 alum, Rapelang Rabana, brought the whole event back to a personal level to address self-mastering in the pursuit of achieving your objectives. Motivating the arena in unlocking our true potential, and "breaking beyond the bell-jar" and going beyond your perceived limitations.
Mapalo Makhu (Woman & Finance)
"Investing for your kids"
Finance coach and founder of Woman & Finance, Mapalo Makhu rounded up the keynote speakers on the day. Highlighting the value in investing for your children (and, of course, starting as soon as possible), Mapalo underlined the possibilities in the markets. As well as making compound interest work for you,navigating the markets, and varying degrees of risk to consider.
Make sure to check out the event gallery right here, and see what you missed out on!


@standwanongauza