April showers brought devastation to Kwa-Zulu Natal, The Province was plagued by flooding with hundreds of people losing their homes and hundreds more losing their lives. The intense flooding caused roads and bridges to collapse, causing President Cyril Ramaphosa to re-declare the National State of Disaster not long after it had been lifted as we saw some relief from the COVID-19 Pandemic.
Travel Restrictions into South Africa eased, and now vaccinated travelers can come without a PCR or Rapid Antigen test into the country as long as they have their proof of vaccination QR code. As the rest of the world also starts to travel more, let's see if this can help our struggling Tourism industry. As they now have to navigate the Jet fuel shortage at O.R. Tambo and Loadshedding.
Internationally, war continued in the Ukraine as Russia who continue to be sanctioned by other governments as well as corporations continue to try and take power. This has been good for South African commodities as our coal supplies are now in high demand globally.
As the world struggles to try and control the worst inflation it has seen in 40 years. Many Countries are waiting to see what will happen with interest rates expected to be raised multiple times over the coming months.
Let's see out how the bundles performed throughout April- Click on the table below.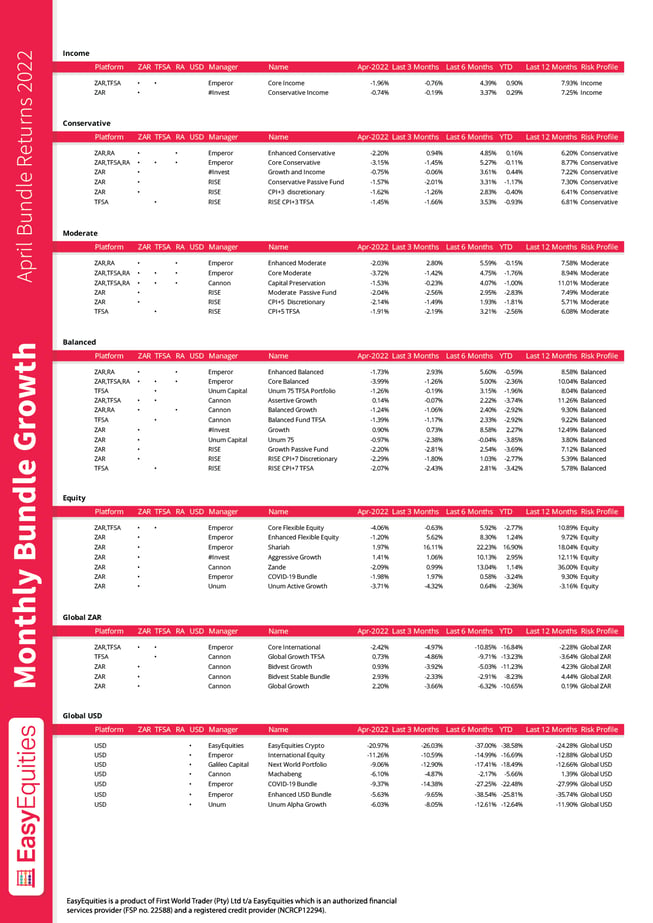 Please kindly note that the data provided above is based on past performances and may not be indicative of future results. Another reminder that we must make mention of this for legal reasons.
The schedule above is provided to give you greater insights into the kinds of bundles we provide. You are, however, the co-pilot that should choose your own bundles and drive your own investment journey.
Happy Investing!
Any opinions, news, research, reports, analyses, prices, or other information contained within this research is provided by an employee of EasyEquities an authorised FSP (FSP no 22588) as general market commentary, and does not constitute investment advice for the purposes of the Financial Advisory and Intermediary Services Act, 2002. First World Trader (Pty) Ltd t/a EasyEquities ("EasyEquities") does not warrant the correctness, accuracy, timeliness, reliability or completeness of any information (i) contained within this research and (ii) received from third party data providers. You must rely solely upon your own judgment in all aspects of your investment and/or trading decisions and all investments and/or trades are made at your own risk. EasyEquities (including any of their employees) will not accept any liability for any direct or indirect loss or damage, including without limitation, any loss of profit, which may arise directly or indirectly from use of or reliance on the market commentary. The content contained within is subject to change at any time without notice.