It's that time again when we update our Thrive instruments and this time we using our Emperor Asset Management team's Covid Bundles, which have seen great returns during this period.

We have changed our Thrive instruments to the Thrive 40 this time based on Emperor's Covid-19 bundles and the instruments in them. This gives you the opportunity to have no brokerage on these instruments.
Emperor Asset Management created, not one, but two COVID-19 bundles at the end of March 2020. A locally-themed bundle was created as well as another for investors looking for international exposure in their EasyEquities USD accounts. These portfolios have been put together using Emperor's algorithmic process that invests in stocks based on their quality, value, dividend and growth characteristics. Emperor also took into account what they fundamentally fundamentally believe could outperform in the near term given Coronavirus market dynamics.
The ZAR Covid-19 bundle is up 26.28% since it was created and the USD Covid-19 bundle is up 36.37% in USD (performance as of the date 10th July 2020).
The ZAR bundle consists gold, gold mining companies, technology stocks, healthcare, pharmaceuticals and consumer staple type companies. These are the type of stocks that could benefit from monetary stimulus (gold), the health crisis and the "stay at home" environment.
Click on the image below to see the interview with Bonolo Modise (Brand manager) and Shaun Krom (Emperor's Asset manager) around the new Thrive Instruments and the Covid Bundles.

Below are some of the stocks included in Emperor's ZAR Covid 19 bundle.
Prosus
Prosus is a global consumer internet group and one of the largest technology investors in the world. Prosus own 31% in Tencent, a Chinese tech giant. Full year results for the year ended 31 March 2020 showed growth in revenue, trading profit and core headline earnings of 23%, 16% and 13% respectively.
Tencent got through the coronavirus pandemic relatively unscathed as most of its businesses have minimal touchpoints with the physical world. Its online-game business is poised to continue expanding in 2020, even with a potential sequential decline in Q2 as the Chinese return to work.
Harmony Gold
Harmony, a gold mining and exploration company, conducts its activities in South Africa and in Papua New Guinea, one of the world's premier new gold-copper regions. With 69 years of experience, Harmony is currently South Africa's largest gold producer.
As governments around the world print more money, gold and gold mining companies are set to benefit.
Absa Newgold ETF
The NewGold Exchange Traded Fund (ETF) offers the opportunity to invest in gold bullion, as it tracks the Rand price of gold. Classified as a domestic investment, NewGold ETF was the first of its kind in South Africa to allow institutional and retail investors to securely, easily and conveniently invest in gold bullion, with the added benefit of low management fee.
Aspen
Aspen Pharmacare Holdings Limited is a multinational South African holding company for pharmaceutical concerns, and the largest drug company in Africa. The annual FTSE Russell Environmental, Social and Governance (ESG) Ratings have been published and Aspen has been included as a constituent member in the global FTSE4Good Index Series for the first time.
Satrix Nasdaq 100 ETF
The Satrix Nasdaq 100 ETF enables you to invest in the 100 largest, non-financial companies listed on the Nasdaq Stock Market in a single trade. It aims to replicate the performance of the Nasdaq-100® index by investing in the iShares NASDAQ-100 UCITS ETF. The index includes innovative companies across industries and is heavily weighted toward technology companies. We expect these companies to outperform during the Covid crises.
To Invest in the the SA bundle click here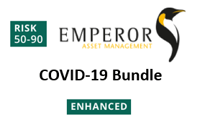 The USD bundle consists of e-commerce, gaming and social media, work from home tech, pharmaceutical and consumer staple stocks.
US Stocks
Below are some of the stocks included in Emperor's USD Covid 19 bundle. Emperor targets stocks with strong profit growth that also excel on a variety of key technical and fundamental metrics.
Take Two Interactive
Take-Two Interactive is a New York City based global publisher, developer and distributor of interactive entertainment software, hardware, and accessories. Popular Take-Two game franchises include Grand Theft Auto and BioShock.
Take-Two Interactive Software could see a short-term boost to its recurrent consumer spending -- possibly 10-20% -- as gamers stay home during the coronavirus outbreak in the West, leading to more time spent in key live-services titles such as Grand Theft Auto Online, Red Dead Online and NBA 2K Online. The company may build on solid 2020 results with consistent performance in 2021, even amid a lighter release slate. Take-Two's expanded pipeline, with 93 titles in development set for release through 2025, should aid sales, beginning in 2022
Tencent Music Entertainment
Tencent Music Entertainment Group is the leading online music entertainment platform in China, operating the country's highly popular and innovative music apps. The TME share price has risen strongly in recent months but is still an attractive buy
Tencent Music Entertainment's rising proportion of paying users could drive sustainable long-term revenue growth. The company's expanding scale and ability to leverage parent Tencent's extensive distribution should lead to stable operating profitability in the long run
Alibaba
Alibaba Group Holding Limited is a Chinese multinational technology company specializing in e-commerce, retail, internet, and technology. The Group's market cap has recently topped US$720 billion, making it the sixth most valuable company (Facebook is 7th)
Alibaba's fiscal 2021 sales growth could surpass consensus expectations as the pandemic stokes a rush for its digital services.
Roku
Roku, Inc. manufactures a variety of digital media players that allow customers to access internet streamed video or audio services through televisions.
Despite a near-term slowdown in connected-TV ads due to Covid-19, Roku's long-term growth prospects are expected to improve as Covid helps accelerate the shift from the $60 billion traditional-TV ad market, with Roku poised to grab and expand sales share.
Zoom
Zoom Video Communications, Inc. provides videotelephony and online chat services through a cloud-based peer-to-peer software platform and is used for teleconferencing, telecommuting, distance education, and social relations.
Zoom's revenue is poised to nearly triple this year as a shift in work culture triggered by the Covid-19 pandemic urges corporations to pull forward adoption of cloud-based video-conferencing tools. Zoom's opportunities also span beyond video conferencing, with 25% of sales eventually expected to come from its cloud-phone product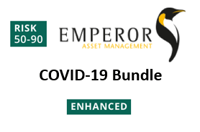 Read more about the Covid-19 Bundles HERE
For more information on this new way to Thrive, you can check it out here. Alternatively, log into your EasyEquities account and head on over to the 'My Thrive' section of your profile. If you are on desktop, log into your EasyEquities account and hit this link.