Digital is the future! This is not only true for those of us in the FinTech space, but for the news and publication industry as well. As fans of Destiny and Elle, magazine we learned this lesson the hard way when Ndalo Media announced it would be closing its doors last year. While a hard pill to swallow, many young entrepreneurs appreciated this lesson as an opportunity to lead the online revolution in media.
Enter Ntsikelelo Miya.
'Ntsiki' is the founder and acting editor of Vantage Vu magazine (hosted on Joomag), as well as its business arm, Vantage Vu Business which had a feature on EasyEquities in its first edition.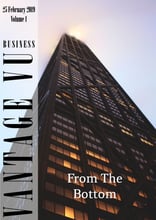 Ntsikelelo found us through our banking partners, Bidvest Bank, through which he had opened a savings account. It was then when he made the concerted effort to start investing, borne out of love for all things business and commerce.
When I asked about Ntsiki's favourite stocks, he stuck to four companies in particular:
Capitec Bank, Tsogo Sun, ABInBev, and Efora Energy Ltd.
When I heard these I immediately though 'oh the good life,' with each brand respectively specializing in money, holiday getaways, beer, and uh, energy...
I was soon corrected when Ntiski highlighted to me just why he had an interest in those brands.
"I studied the growth history [of Capitec] and spent time talking to people about their experience with the bank," which influenced his decision to buy the stock. "When it comes to Efora, it was a matter of learning more about the energy industry, and starting with a small sum to encourage me in dedicating more time to learning [about the industry]."
"With regards to Tsogo Sun and AbInBev, I spend most of my time in media, where the hospitality and beverage industries play a big role. Overall, my decision to buy stocks is influenced by my love of business."
With that quote, I could pin the driving factor in Ntsiki's investment habits.
"What pushed me to start was the fact that when I started I started my own business I had nothing to start it with. I could not look to my family for financial support, so when the business started making money I wanted to make sure I never run out of money again. That meant I needed to find a way to keep the money growing while I worked on my dream."
"With time, I started understanding how using available finances to secure future profits was key to ensuring that the dream is complete. This understanding drove me to making sure that with every bit of profit, I [would] take a piece of it and invest it."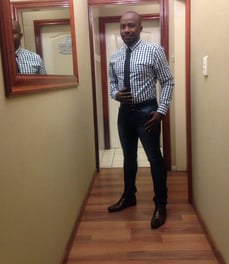 Growing up in Klerksdorp before moving to Johannesburg, Ntiskelelo has maintained a tunnel vision in achieving his goals as a self-made entrepreneur. "In my opinion, as a country we do not have enough entrepreneurs yet to ensure a completely stable South Africa. At this moment we have a very saturated market of entrepreneurs who lack financial access (among other many things)."
"There are many small businesses [with] so much potential that if they were to be listed they would change the country."
Another important lesson Ntiskelelo emphasizes constantly is the need for financial literacy in South Africa, and the role he sees himself playing in bridging the gap.
"For me, being in a position of influence means that I get to go back to where I came from and share what I have discovered. I get to show others where I come from that it is possible to start building a financially stable future."


@standwanongauza