For the next two weeks you will be able to donate to a cause very close to our hearts, not only at EasyEquities but through the Purple Group as well. The Purple MAP is a project we kick-started by Purple Group staff on Mandela Day in 2019 to raise money for displaced people residing in an unnamed and neglected informal shelter in Turffontein.
The Purple MAP stands for The Purple Mandela (day) Action Project to commemorate the day it launched, although our activities and fundraisers have not been limited to one single day in the year. In collaboration with the Scalabrini Missionaries and LaRochelle branch of Society of Saint Vincent de Paul (SSVP), our team has been quite hands-on in directing all of our collective efforts.
Using exclusively in-house resources up until now, Purple Group staff managed to raise over R55 000 to go toward improving the sanitation facilities at the shelter; as well as funding feeding schemes for our friends in Turffontein. One of the project's leaders, Beverley Ferreira, underscores their situation as "Already desperate before the onset of COVID 19, and the lockdown has further threatened their survival, as hunger is a daily reality for them."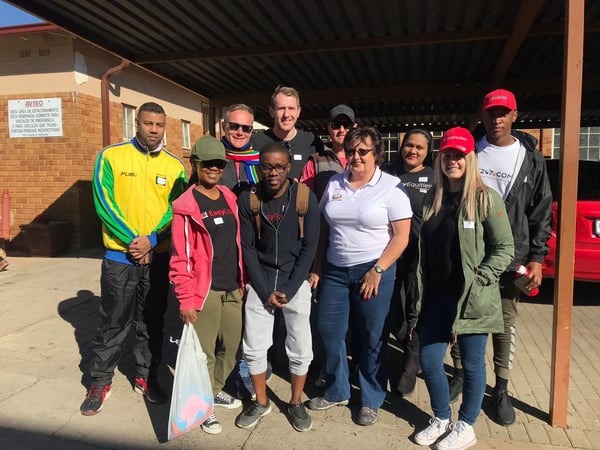 A few members of the Purple MAP gang
Before finally debuting on the EasyEquities platform, The Purple MAP raised funds through hosting a sports day, running a Christmas Toy Drive, and simply getting staff and friends to contribute time and money throughout the year. Now that we've made it to the big leagues on the EasyEquities platform, we have two weeks to make the most of it - with your help, of course!
"Donations received through this particular fundraising initiative will be used to support them and other unemployed or homeless people in the La Rochelle and Turffontein areas by way of food parcels they will receive through SSVP's food distribution project." Beverley highlights before continuing, "The donations are therefore to SSVP for the purpose of allowing them to purchase food for this project."
Make sure to check out the Purple MAP website to see what the project is all about. All help is welcome and needed, especially now.
How to donate directly from the platform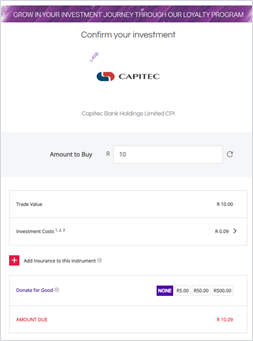 That, and other causes, is why the Donate For Good facility was launched on EasyEquities. So far, the EasyEquities community has managed to raise over R190 000 toward the three different charities and funds that were made available on the platform.
From 20 July EasyEquities' Donate For Good cause will be the Saartjie Baartman Centre for Women and Children, to support those most affected by GBV (Gender-Based Violence).