Not all first times are created equal. That's for sure. There are a few that stand out for me – the first time I took my driver's license and rolled back on the incline start. Blind. The first time I ran 10km and couldn't move for three days. The first time I had to break up with a boyfriend, or be broken up with; and then the first five post-break kilograms that I had to work off. The first time I took a real hard look at my spending habits. The first time I applied for a bond. The first time I asked for a raise.
But then some firsts are a little easier than others. The first time I stood up on stage. My first salary. The first time I travelled on my own. The first song I played start to finish on my Ukulele. The first shares I bought (Pick n Pay, then Discovery, then Aspen). The first time I was able to take my Mom out for dinner, on me.
Either way you look at it, first times require a little bravery from us. Which is why I am bowled over every day at how many of you are taking those first strides in your investment journey. From just starting with a few bucks, to learning and teaching people like me as you grow. First times should be celebrated. We did quite a bit of that these past few months.
In October we shared our birthday month with 5fm, who are big on celebrating firsts too. We teamed up and saw over 10 000 South Africans take the first step in their investing journey on EasyEquities. Together with our 5fm fam, we were also able to give a few South Africans some next-level firsts. Like 38 year old Levona Morris, who had never been on a plane before. Levona and 5fm DJ Rob Forbes were whisked away to Club Med Bintan Island for an all-expenses paid week long vacay. Rob had such a jol he created a hashtag #RobGoesIndo and Levona loved it so much we weren't sure she'd ever come back. "That Island is literally paradise on its own," she told us. "It's got just about everything you need. The rooms are amazing and the food is out of this world - from Italian to Indian cuisine, you name it they have it. Management and staff are amazing, I have made so many friends while on holiday. I actually left something behind... and that's my heart."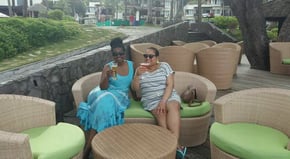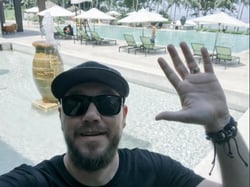 Things were a little less laid back for 26-year-old Moseneke Tsiane who wanted to train like an athlete for the first time. We hooked him up with Olympic rower Shaun Keeling and rowing coach Roger Barrow, who is lauded as "the best in the world" to train like a pro. "When I got announced a the winner of rowing prize I couldn't believe it!" Moseneke said. "My favourite part was when I was with Shaun rowing. I enjoyed it, I felt like doing it the whole day." Moseneke got to spend two nights at the luxurious Blades Hotel at Roodeplaat Dam on the outskirts of Pretoria. Lucky fish!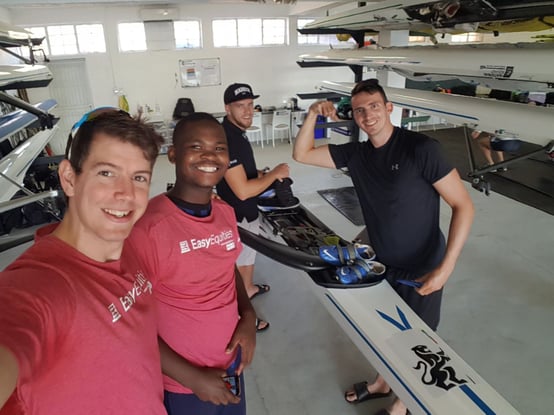 The #1stTime5 finale is yet to come, when Forbes and our last 5fm winner Nicole Salt take Maranello, Italy for a spin in March 2018. Literally. This little lady is going to fulfil her dream to drive a Ferrari and then some thanks to Pablo Clarke Racing who are hooking Rob and Nicole up with a trip to Modena and the Enzo Ferrari Museum; and a Ferrari driving experience through the hills of Maranello – all interspersed with driving Ferrari simulators and enjoying classic Italian cuisine. "I thought it would be rad to go drive a Ferrari at Kyalami or something but when they said Italy I totally thought I heard wrong," said Nicole. "This is an absolute dream come true as I truly have a need for speed and the Ferrari is my ultimate car to own or drive so at least the prize wasn't wasted on someone that doesn't even love cars."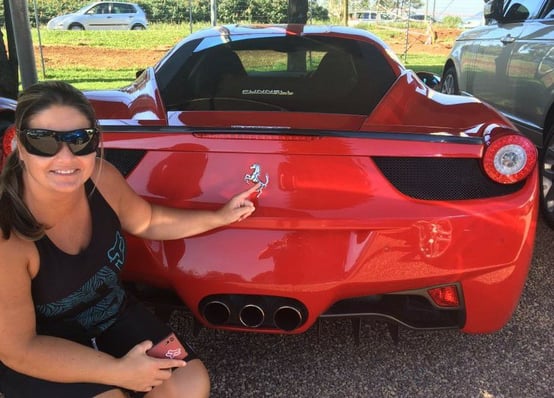 If you missed out on any of the 5fm birthday love, fear not. You can listen to our chats right here:
And if you read this blog and felt the FOMO start to sink in, know that you've still got until the end of this month to register an EasyEquities account (if you haven't already). Select the 5fm option in the 'How did you hear about us' drop down and when you FICA your account you go into our daily draw to win R1000 in your Easy account. Deets here.