Join the Easy Community and with a massive YES to building the economy through employment opportunities for youth in South Africa!
From 24 August until 11 September we're supporting YES (Youth Employment Service) initiative by giving investors on the EasyEquities platform the opportunity to contribute to this initiative via our Donate For Good facility.
What is YES all about?
With the national unemployment rate sitting at 30.1% as of March 2020, of which 63.3% are youth aged 15-34 year-olds actively seeking employment. This initiative seeks to address the longstanding youth unemployment issue South Africa faces, by creating real work experiences for unemployed black youth in the country.
.
How to donate directly from the platform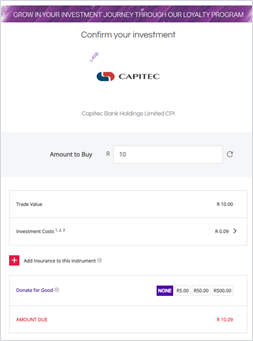 With over eight million young people shut out of the economy, YES partners with large corporates, small businesses, as well as individuals that provide employment opportunities.
The initiative has the ambitious target of getting one million youth into gainful employment after three years, so we're keen to see them succeed. Everything donated to YES via the EasyEquities platform will be used to help the organisation achieve their goals.
The Bigger Picture
According to the YES website, addressing youth unemployment would go a long way into addressing other socioeconomic issues we face in South Africa by creating more taxpayers, lower crime rate, fewer social grant takers, thus stimulating the economy. More than the economic benefits we stand to gain, finding employment can give job seekers a sense of dignity and purpose.
So, if you're a young person looking for employment and opportunities, you make sure to go here to see how YES could work for you. It starts with the click of a button to register for an online account with them. If you're part of an organisation or are an individual that could help with employment opportunities and would like to help, hit this link.
To contribute to this initiative, you can donate to YES via the transaction confirmation page on the EasyEquities platform. For more info on Donate For Good and how it works, check out this FAQ or hit the button below.