Once you've become an investor via EasyEquities and have accumulated shares in one of the brands you love, it's quite a liberating feeling. Being able to add "investor" on your Twitter profile to let your community know to put some 'respeck' on your name is just one of the parts of this journey I enjoy. But that's not all there is to it. Once you have set out to be an active agent in the company you have invested in, making your voice heard as a part owner in said company goes way beyond social media.
This happens at an AGM (Annual General Meeting), a scheduled yearly get-together of the company's directors, executives, and shareholders, which offers a more intimate interaction of what the business is up to and an understanding of what the future holds for the organization. In my ever first AGM, which happened to be at Long4Life, shareholders made elections on appointments to the company's board of directors, new selection of auditors, as well as dividend payments; the standard items you will find on an AGM agenda.

You can read the results of this AGM here.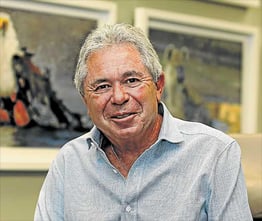 While I didn't initially know who these appointments were, nor what real difference any updates to dividend payments would mean for me personally, the right to be heard made all the difference to me. And just being there as a shareholder made me want to learn and understand more about the business of the company I had invested in. To add to that, CEO - Brian Joffe (pictured), was in attendance taking questions and giving us some insight on what the company strategy would be for the next year.
After this meeting, and now that I can say I've rubbed shoulders with an accomplished and inspiring entrepreneur and businessman, I may or may not be a regular at Sorbet Man (a company under Long 4 Life) asking the beauticians if 'they know who I am.'
Overall this experience has given me even more reason to make the most of my shareholder status by growing my interest and knowledge of the businesses I'm invested in, and recognising the consumer empowerment that comes with share ownership. The next step is to get myself some telecom shares to try and give more of a voice around data being as expensive as it is.
Make sure to check out what other important insights the EasyEquities Research Portal may have for you on the L4L share.