On the 29th of April 2021 we hosted a webinar with Chris Rule, Head of Product and Client Solutions at CoreShares Asset Management on the launch of their new Total World ETF. This will be listing on the 17th May 2021.
Tracking the FTSE Global All Cap Index, this ETF represents the full opportunity set of large, mid, and small-cap stocks across 25 developed and 24 emerging markets, comprising over 9000 constituents across 10 sectors. It is arguably the most comprehensive 'all in' global strategy to be listed on the JSE.
For a recording of the webinar please click on the image below: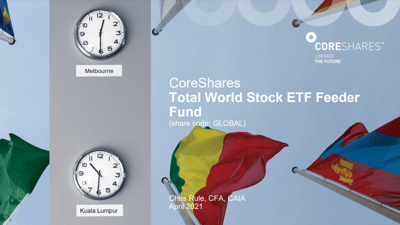 To view Chris's presentation please click on the image below: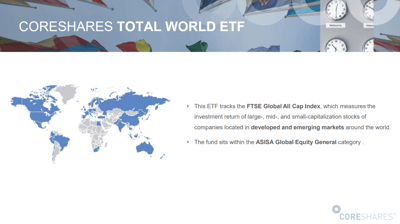 The CoreShares Total World ETF is also available as an IPO in your ZAR and TFSA account until Midnight, 6th May 2021. Click on the image below to go through to the IPO.
For even more information about the CoreShares Total World ETF see our

EasyETFs

page HERE.