Every few weeks, EasyEquities gives the investors on our platform the opportunity to donate to an established charity. As of publishing, we've featured nine non-profit organisations on our Donate for Good facility and are currently on our tenth.
Think of Donate for Good like as the tin canisters you see at the tills of other retail franchises in SA – you can donate some change or multiple times, whatever you can give is welcome.
Even though this feature is a relatively new addition to the platform, with its debut on the platform coinciding with the start of national lockdown, it represents long-standing values we've always had at EasyEquities and Purple Group. Easy decided to prioritise adding this feature when lockdown began because of the massive national implications a lockdown would bring, and TeamEasy wanted to leverage its strong EasyCommunity to help where we possible.
And the community has been showing so much of Ubuntu via the platform.
Here's how it looks: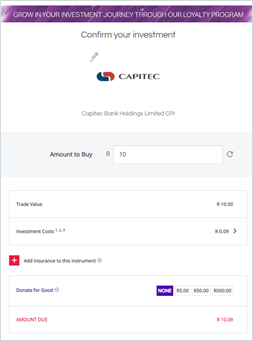 Over three hundred thousand rands have been raised over the last six months, with the biggest recipient being the Solidarity Fund when we launched Donate for Good, which collected over R146 000 from the EasyCommunity alone. So, shout out to the #EasyCommunity for playing its part in supporting the nation, especially in time of need.
The other charities we featured were:
Cotlands – focuses on the ECD (early child development) of underprivileged children,
National Horse Trust – cares for horses once their racehorsing careers are done,
The Purple MAP – our own inhouse non-profit project in support of displaced people in Turffontein,
The Saartjie Baartman Centre – supports women and children affected by gender-based violence,
Thandulwazi Maths & Science Academy – provides educational growth opportunities for students and teachers based in public schools in greater Johannesburg,
Yes4Youth – an initiative that aims to build the South African economy by giving youth employment opportunities,
Epilepsy South Africa – supports South Africans suffering from epilepsy, as well as providing economic empowerment through skills training and job opportunities.
African Icons Invitational Cycling Event – hosted by African Icons Invitational and Tourvest, this event aims to raise funds for the widows and orphans of South Africa police officers who lost their lives in the line of duty.
Even though we have covered a wide range of charities with different specialties, touching on the different lives we aim to help – we can do more, with your help.
Let's leverage the power of the EasyCommunity, and do some good for the broader community.