From the start of August until the 22nd of August, our Donate For Good choice of organisation will be St Stithian's Thandulwazi Maths and Science Academy. Thandulwazi Trust understands that the support of underpriviledged students should include support of the teachers that lead the classrooms.
According to the Head of Thandulwazi, Mr Velaphi Gumbi, the trust "provides educational growth opportunities for students and teachers based in public schools in greater Johannesburg." This nation-building educational upliftment programme supports historically disadvantaged learners, teachers, ECD practitioners as well as student teachers.
The trust and its activities are supported by St Stithians, with many of the academy's activities mostly funded through private and corporate CSI contributions. Big ups to Saints and all the contributors that have ensured this academy continues to thrive. It's now the EasyEquities community's turn to lend a helping hand.
How to donate directly from the platform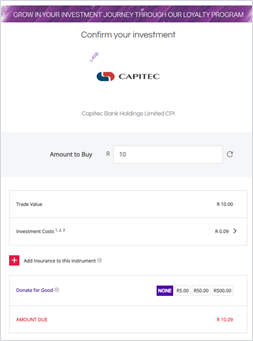 The previous the Donate For Good charity was the Saartjie Baartman Centre for Women and Children. SBCWC, its shorthand, is a support centre for women and children that are the survivors of abuse.
Our community of EasyVestors managed to raise over R17 300 for SBCWC last month, with over R12 500 going to the Purple MAP before that. Massive shout out to you, the people who power the good that EasyEquities tries to share in spreading.