At the start of the month, we gave our EasyEquities community the chance to donate to a cause that's close to our hearts. A bunch of you donated to Cotlands and we collectively managed to raise over R45 000!
Cotlands is an organisation that supports underprivileged children, with particular focus on ECD - Early Childhood Development. The first five years of a child's life are considered the most essential in their growth, and Cotlands facilitates in the advancement of a child's capacity for communication, collaboration, creativity and critical thinking, as well as mathematical concepts.
The charity was founded in 1936, and has been essential in guiding the physical development of disadvantaged children, as well as their social and emotional conditions.
Now we're changing it up for the rest of the month. Until the end of June, we're throwing our support behind the National Horse Trust. This non-profit organisation protects horses against animal abuse and neglect.
How to donate directly from the platform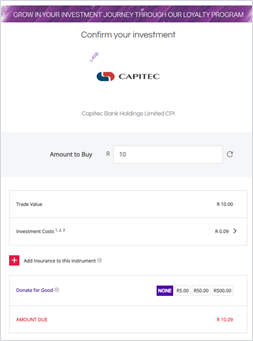 The charity cares for horses at the end of their racing careers. Not everyone considers what happens to the horses and the people who keep them running after illustrious events like Durban July and the Kenilworth Races. It's time to care about what happens after the races finish, and appreciate the different forms of life on this earth.
Charles Savage, our CEO and a champion of our Donate For Good campaigns on EasyEquities, elaborates: "Horses are magnificent animals that are inextricably linked to our progress and history on earth. Much more needs to be done to ensure their future on and off the track is better protected."
You can find the donation feature in the share transaction page, as seen in the image above. You can donate in increments of R5, R50, or R500 at a time. We change up our charity of choice every 3-4 weeks, so keep your eyes and ears peeled for a cause that's close to your heart!
In From July to August we're throwing our support behind our very own in-house cause (Purple MAP) and then the Saartjie Baartman Centre for Women and Children. Stay tuned to hear more about these in July!