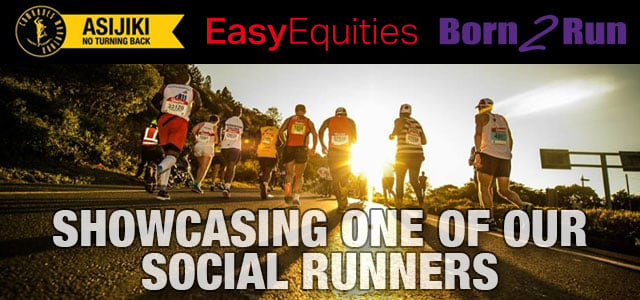 With one month to go before the start of the 2018 Comrades Marathon the hype is building for all runners local and international. We want to showcase some of our runners (elite, social and development) in our fantastic club EasyEquities Born2Run that are taking part in the ultimate human race (the Comrades Marathon) this year. We believe in democratising share ownership, helping people find their financial freedom and sharing our passion for investing in their health.
This year's motto for the Comrades Marathon is ASIJIKI - which means no turning back!
Investing in health and people! why it matters to us
Sport helps give you a sense of direction and freedom

Sport brings people together and helps people find a common purpose

Sport empowers, inspires and motivates individuals
Whether you are taking part on the field, road or on our EasyEquities platform. If you are looking after your future, that's what matters to us most!
Join us in supporting our EasyEquities Born2Run club members taking part in the Ultimate Human Race on 10 June 2018.
Today we are showcasing one our social runners - Saul Lazarus
We asked Saul the following questions to find out why he does what he does: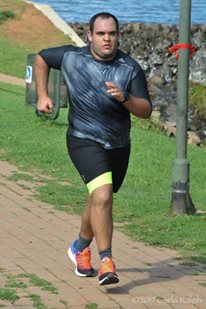 How did you get into running?
In 2012 I went to Israel on a year programme however shortly after I became depressed and needed to return to South Africa which I did in about April of that year. When I got back I needed to turn my life around as it was going the wrong way at an early age of 18. A friend of mine JP Duminy's wife Sue said to me perhaps you should try running and they bought me my 1st pair of running shoes, since that day I have not turned back, and running has become my therapy and a way of life.
Why did you choose EasyEquities Born2Run?
I chose EasyEquities Born2Run because after struggling for around 2 years to improve my times and qualify for comrades I needed a change of environment and so I started looking for a club that helps everyone achieve greatness, there is no other club where the elite runners and social runners interact with each other and the elites are open to give over knowledge and advice for one to improve their running besides here.
What is the best race you have ever had?
I've had some enjoyable races over my short running career so far. My best race in terms of time is probably Alan Robb 32km where I managed to smash my PB by over 30 minutes. My best race so far in terms of enjoyment must be Cape Town Marathon it really is the worlds most beautiful race.
Most memorable moment in racing career?
My most memorable moment in my racing career must be at Standerton Marathon where I ran with 2 close friends Justin Sher and Christopher Ferguson who ran with me in order to qualify for Comrades because they believed I could and they pushed me on that race that I did qualify I will never forget crossing that finish line and embracing them with disbelief that I had finally qualified.
What are your strengths?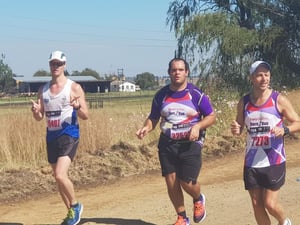 My strength belongs in my mind because don't tell me the sky is the limit when there are footprints on the moon, I will never ever give up, when things get tough some turn up their noses, some don't turn up at all, but I roll up my sleeves and persevere because to get to heaven you need to get cleansed in hell!
Fastest 5, 10, 21,1km, 42.2km
5 = 29:20
10 = 1:01:13
21 = 2:17:48
42.2 = 4:59:11
What is your occupation, and what do you do in your spare time?
Software Engineer don't have much spare time outside of running and work but when I do Ill make sure to spend it with family and friends or a quick getaway to the game reserve.
Do you have a specific diet?
Yes, I follow John Hamlett's new lifestyle nutrition which is a high protein zero fat zero sugar way of life.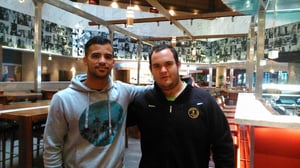 Where do you draw mental strength from/think about when under pressure that helps you cross the line?
This year I have been running for endangered wildlife and an organisation called saving the survivors an organisation that looks after injured or widowed wildlife. I draw strength from the rhino calves and lion cubs who must suffer much worse then a little pain in a long run when they lose their mother to canned hunting or poaching.
What do you think running has taught you that you can use in the world outside sport/running?
What you put in is what you get out, when you struggling to run the distance run more, remember life can get stormy but it can't rain forever so push through the hard times to get to the good times, work harder to be a success as there is no replacement for hard work.
Have you started investing?
I have an account that I play around on the free platform but have yet to invest as I am scared I do not know what I am doing yet.
How would you relate running to investing?
There is no such thing as overnight success so make sure to invest long term in order to receive the rewards so to with running it takes time and hours in order to become a successful runner.
Saul has an amazing story himself and is running Comrades for the charity Saving the Survivors founded in 2012 by Dr. Johan Marais. They do incredible work of taking care of injured and endangered wildlife that have fallen victim to poaching or traumatic incidents. For more information on Saul's charity and story click HERE.
If you want to learn more about the club please click below: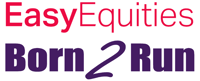 Investing for everyone, running for everyone.
#Easy