During these difficult times, our EasyEquities Born2Run running club has been keeping very active, by giving club members and other runners a variety of weekend training runs and "races". From our East London clubs Ocean 10 coming up on the 16th May to our Johannesburg and Pretoria races, they have had over the last few months. Our club has been keeping active and trying to still keep things ticking over while adhering to Covid regulations.
OCEAN 10 – Presented by Easy Equities Born2Run EL
The Ocean 10 road race run on the seafront (known as Oceanway) in Gonubie was a long-held idea, which was originally shared with a Sunday run group in passing.
"Why don't we do it?" was the response from the mainly female members present. They put their hands up with some enthusiasm.
The first race took place on the 17th March 2019 with the support of numerous sponsors who were sold the idea. The race was outstanding, and the results proved that the theory behind the event was indeed accurate with club, provincial and personal records the order of that perfect autumn day.
The 2020 event found a headline sponsor in the local Mercedes Benz franchise, part of a wider motoring group in the city and indeed beyond. All the previous sponsors remained a part of the second edition and the club was able to up the ante and attract a great field of classy athletes. That was on Sunday 15 March and a week later the country was in lockdown and remains limited in what can be offered.
Easy Equities Born2Run are generally innovative and leaders in the sport and became determined to hold the third edition of Ocean 10 in 2021. The original date offered of 21 March was rejected and the race moved to 16 May in order to reconvene as restriction eased. It will be the first Border based road race in the new year.
Lockdown wreaked havoc on the Eastern Cape economy and the headline sponsor, Ronnies Motors decided to undertake a minor role, while numerous others have basically shut up shop. We have however attracted a long-standing supporter of the club, The Windmill and two new sponsors in Gonubie SuperSpar and United Energy. SA Home Loans has meanwhile renewed for the third year running.
In the interim, before there could any semblance of certainty that the race would go ahead, the club hired the services of Norris Williamson, a World Athletics qualified course measurer to validate the course for records, including any possible world record attempt. Born2Run are extremely proud to have been awarded such status and believe it was worth every cent.
The race starts outside the Gonubie Hotel mere meters away from the Indian Ocean and with the Gonubie Beach and Boardwalk as a backdrop. It is a one loop race, and the ocean is in close proximity throughout, finishing back where it starts.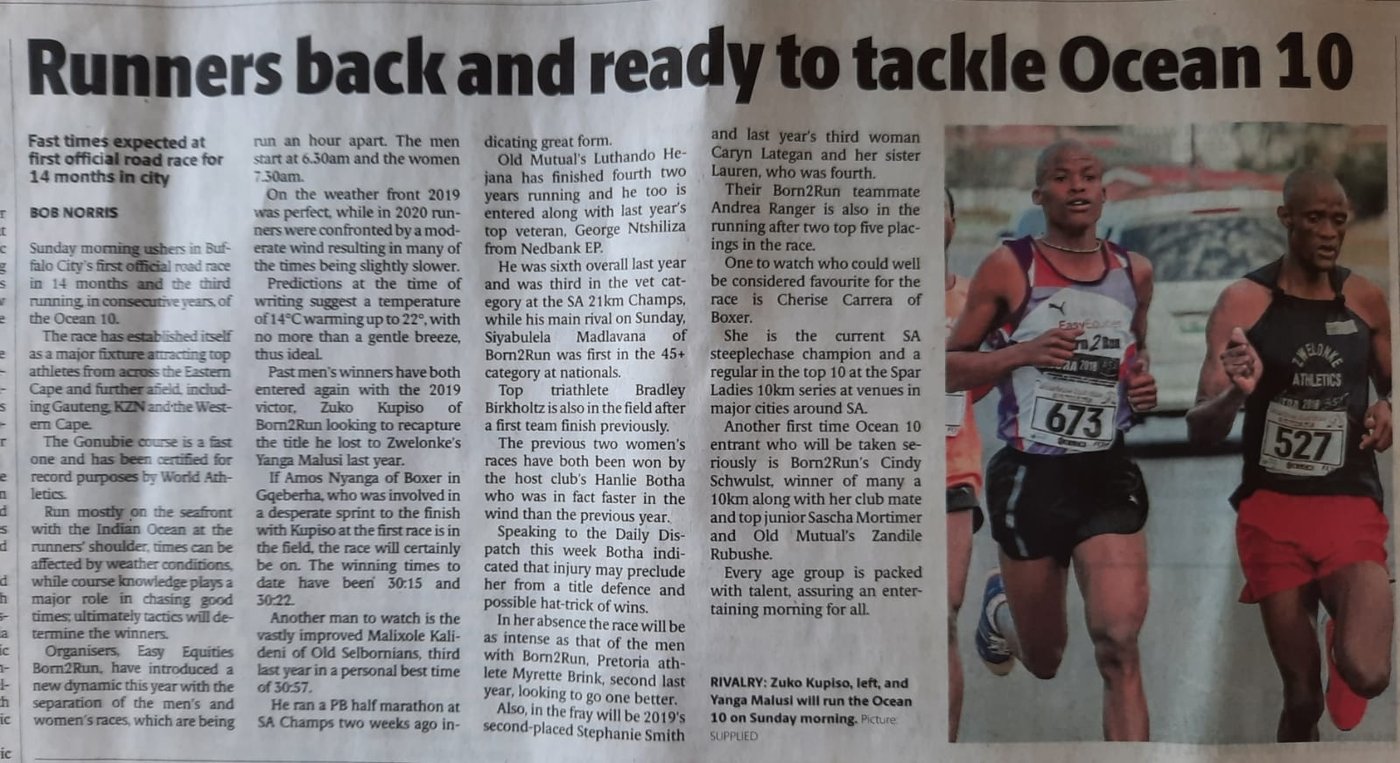 There are no funds available for athletes transport this year and we will be relying on the reputation built up over the past two years to entice top performers to run.
The commendable prize list will also be affected, but the club will do its best to make it attractive, while the superb quality race shirt of last year is being emulated albeit that entry fees have been adjusted in order to ensure continuity of quality.
The 2021 chapter offers TWO races, one for men at 6:30 a.m. and the other for women at 7:30. Members of the organizing team were involved 38 years ago in the first ever women's only race and are excited to introduce a still more attractive event for members of both sexes.
May generally offers perfect weather for running and all things being equal the spectators stretched across 10km of road could be in for a sub-30, or even 29-minute outcome while the expectations are that a women's winning time could be around 34 minutes.
Entries are closed with the "girls having 20 more than the "boys".
A superb day of racing awaits.
Our JHB and PTA branches have also been doing what they can during these times with various meet-ups and "races" being held and meeting up every weekend and different places to do club runs.
EE B2R PTA gave an opportunity to the local community runners, by opening up to everyone all to run and train at the home of EEB2R PTA - PVR NG Church 14 Baltimore street Pierre van Ryneveld. Some club member volunteers organised a trio of road running training events challenges, by hosting the club gazebo with water and refreshments for the runners, it had a feel of racing and was well supported on all three occasions.
1st event on 6th March 21 was THE EE 21KM challenge
58 runners attended
2nd Event 10 April 21 THE EE 15KM Run/Walk Challenge
64 runners attended
3rd Event 8 May The EE/Fitgen Comrades training run challenge 30/40/50KM
80 runners attended
A variety of lucky draw prizes were given out at each event ranging from Asics running shoes, runaway sports vouchers, Fitgen sports hampers to Coca Bistro breakfasts vouchers. All in all fun and successful days out.
Compare ETFs on EasyETFs