Emperor as recently launch a brand new ESG Bundle.

What is ESG
Environmental, social, and governance (ESG) investing (also known as "socially responsible investing," "impact investing," and "sustainable investing") refers to investing that prioritizes the best environmental, social, and governance (ESG) elements or results. ESG investing is often seen as a means of investing "sustainably," that is, with the environment and human well-being, and the economy, in mind. It is based on the rising belief that environmental and social variables are becoming increasingly important with regards to an organization's financial success.
Invest in the new Emperor ESG Bundle HERE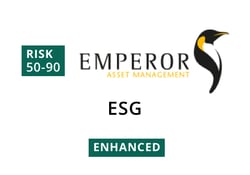 Environmental (E)
Climate change is possibly the most serious challenge confronting humanity, and thus the most essential ESG aspects to consider; this is due to the likely impact of climate change on every part of our lives, as well as the legislative and societal reforms that will be required to battle it. It's critical to understand how a company contributes to greenhouse gas emissions, carbon footprint, resource consumption, waste practices, and energy needs. Organizations will either be able to thrive or struggle when international governments make the essential policy adjustments if they plan for and react to these changes.
Social (S)
The treatment of a company's workers is an important factor to consider when evaluating its ESG performance. A corporation that treats its people well and with respect is expected to provide equal and fair working conditions, wages, and rights. Gender, race, or religious convictions should not be used to discriminate against employees. Mistreatment of employees can have a variety of implications, ranging from challenges in keeping talented workers to strike activities. Similarly, protecting the safety of employees is a critical responsibility as poor health and safety may result in criminal charges, fines, or regulatory penalties, which impact share performance
Governance (G)
The considerations in this section of the ESG assessment all have to do with how a company is run, how it makes decisions, the board of directors is formed, functions, compensation, manages risks, and how it handles with shareholder rights.
Although ESG seems like a new term, the practice of ESG investing began in the 1960s. ESG investing evolved from socially responsible investing (SRI), which excluded stocks or entire industries from investments related to business operations such as tobacco, guns, or goods from conflicted regions.
According to certain studies, organizations with strong ESG policies have a lower cost of capital, less volatility, and fewer cases of bribery, corruption, and fraud over time. Companies with lower ESG scores, on the other hand, have a greater cost of capital, more volatility owing to controversies and other incidents such as labour strikes, and fraud, as well as accounting and other governance issues, according to research.
Invest in the new Emperor ESG Bundle HERE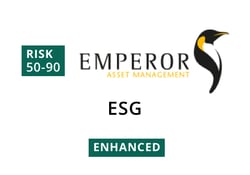 Our Strategy for ESG Investing
Emperor uses four main building blocks, across individual shares to construct our portfolios: Value, Quality, Stability, and Momentum. Our asset management process is driven by algorithmic analysis of the market data which blends together a portfolio of shares that exhibit value, quality, stability and momentum characteristics. We then incorporate ESG ratings in the portfolio, putting more weight to stocks with a high ESG score as supplied by MSCI and removing or allocating less to stocks with a lower score to keep the overall portfolio ESG score high. MSCI's Final Industry-adjusted Score for each company corresponds to a rating between best (AAA) and worst (CCC), we aim to keep the portfolio at an average rating of AA.
Win your retirement with EasyEquities - Check out our Invest For Your Future Campaign on how? T's and C's apply.