On the 30th April 2020 we hosted a webinar with Kingsley Williams, Chief Investment Officer at Satrix, on Innovation in the midst of turmoil – Nasdaq 100.
During the webinar Kingsley discusses the Satrix Nasdaq 10 - what its constituents are, how it has fared in the past, as well as during the COVID-19 pandemic.
For a recording of the webinar please click on the image below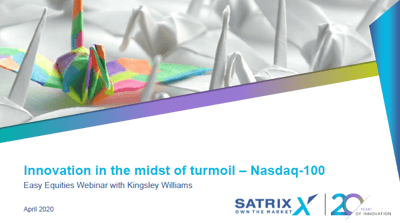 To view Kingsley's presentation please click on the image below:
If you want to find out more about the Satrix Nasdaq 100 check it out HERE on our EasyETFs site.