My name is Jessica and my colleagues refer to me as "the FX Guru"! That's because I love the way you can use rands to invest in dollars on EasyEquities (we call that FX) and I am always answering questions about FX.
EasyFX is an exciting feature on our platform to help us (yes, all of us including YOU!) invest offshore without having to go through a lengthy and expensive process. It is my favourite feature on the platform because I get to invest in my favourite brands. Hi, Netflix!
I've just recently learnt about "discretionary allowances" and I'm here to share this info with you.
Yep, at EasyEquities we don't think there are stupid questions and when someone in the community learns something, they share it. Before EasyEquities, only rich people and folk who had access to stockbrokers that charged a fortune could take advantage of a discretionary allowance. But no more!
As a South African resident, you have a discretionary allowance of R1 million that you can use to invest offshore? No? well get this…
A single discretionary allowance is an allowance with an overall limit of R1 million per calendar year (so 1 January to 31 December) which a South African resident over the age of 18 years may use. The allowance expires on 31 December and cannot be carried over to the next year.
This allows for you to invest up to R1 million in offshore equities on our platform (whoop whoop) …AND you don't need a tax clearance certificate for it. Of course, while some dudes have a million, I don't. But I can still take advantage of investing in dollars as EasyEquities makes it easy and inexpensive!
Let me just highlight (yep, the fine print) that this allowance is only available to South African residents who are 18 years and older, and in possession of a valid green bar-coded South African ID or Smart ID card. So, unfortunately, foreign nationals and minors do not qualify for this allowance.
Now that you know of this great benefit, you can make use of our EasyFX functionality to transfer funds from your ZAR account to your USD account with just a click of a button.
The international stocks that you never thought you had access to, are now at your fingertips. Think about the things that you eat, the sports that you watch, the things that you wear, your phone, your laptop, many of these can be found on the US stock exchange. My team mate Barry (we call him Beef) shared a few of his favourites here.
You can also look at the new Machabeng Bundle which is managed by Cannon Asset Management. Machabeng, which means "international" in Sesotho, invests in companies that "do good". It offers a diversified portfolio of attractively priced companies listed on the New York Stock Exchange that have excellent growth prospects and are supported by strong business brands with high social impact. Dr Saville, the CEO of Cannon, and his team often have lekker products for us to choose from.
Has investing offshore ever sounded this exciting? I don't think so baby! Join me - if you have available funds in your investment account (ZAR), make use of your discretionary allowance now by using EasyFX. You can find the steps HERE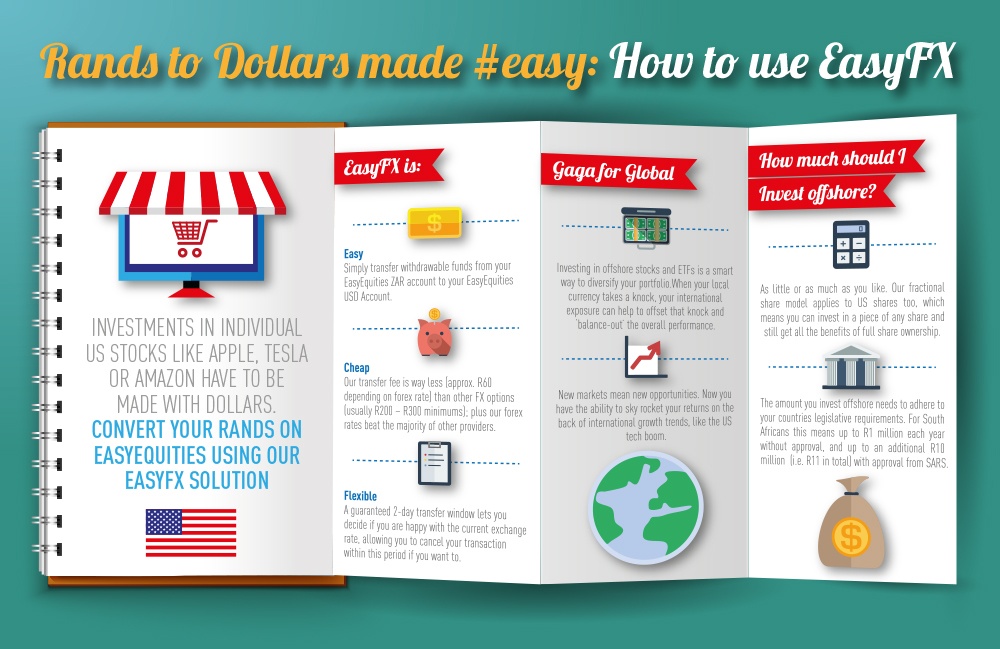 FX Guru | Jessica Maluleke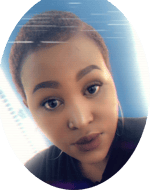 PS – I am also part of the EasyEquities netball team and thought I should take this opportunity to give a shoutout to my team – you gals rock!
Any opinions, news, research, analyses, interviews, or other information contained within this blog is provided by an employee of EasyEquities as general market commentary and does not constitute investment advice for the purposes of the Financial Advisory and Intermediary Services Act, 2002. First World Trader (Pty) Ltd t/a EasyEquities ("EasyEquities") does not warrant the correctness, accuracy, reliability or completeness of any information received from third party data providers. You must rely solely upon your own judgment in all aspects of your investment decisions and all investments are made at your own risk. EasyEquities (including any of their employees) will not accept any liability for any direct or indirect loss or damage, including without limitation, any loss of profit, which may arise directly or indirectly from use of or reliance on the market commentary. The content contained within is subject to change at any time without notice.