Be like Xavier. Inspirational "kid" investor makes my day.
A couple of weeks ago, one of my client engagement team mates forwarded an email he had received from a user. I was immediately blown away by the contents. This particular user was writing to us about his grandson – an EasyEquities fan and one of our engaged, young users. The grandfather was basically mailing to say thank you, as he had exposed many of his grandkids to EasyEquities (as most of our business comes from referrals and family/friends buying vouchers for others, this was no surprise!)
I immediately mailed the grandfather and asked if it was okay to be in touch with his grandson – Xavier Berrisford, a grade 7 pupil, aged 13, from Cape Town. The grandfather connected us and what followed was an inspirational call.
I told Xavier I wanted to feature him on our site – largely as inspiration for other young investors – and had a few questions. Xavier blew me away with his knowledge, passion and investment smarts, and reminded me about something we nowadays forget at Easy - something that was a big part of why we started this company. A big part of our DNA. EasyEquities is way more concerned with the client than the value of their portfolio. We want new investors – and whether you invest R10 or R1 million, you are valued. And your questions and comments are valid. This may seem obvious to some, but is definitely not how most financial services companies operate. And with over 220 000 registered users, EasyEquities is now one of (the???) biggest stockbrokers in SA. And more than 20% of our income is generated by users who are defined as millennials – i.e. young people who will grow EasyEquities with us. Who will continue to shape what we do and how we do it. Young people like Xavier.
Here are a couple of Xavier's answers to my questions:
Q1: What do you like most about the platform?
A1: "I love that you don't have to invest a full share. Trading fractions means you can have access to many more shares with the money you have."
Of course, this answer is spot on and a view shared by many users – our unique fractional share ability allows someone with R100 to have the same portfolio (in a different percentage) as someone with R100 million. Which is awesome.
Q2: Do you have a favourite share?
A2: "Capitec. It has been the most successful for me."
Xavier is in good company as Capitec is the most bought share of all time on the platform. In fact, check out our social media where brand champs Lesedi and Standwa, weekly, post info on the most bought and sold shares. Xavier continued to say that MTN was the one he didn't enjoy that much as a share. "My friend's dad is a top guy there and I thought it would do better."
Thank you Xavier for making my day, for reminding me why we do what we do and for sharing your story with us.
Happy investing!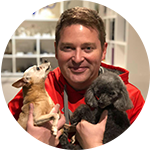 @carelnolte
Any opinions, news, research, analyses, interviews, or other information contained within this blog is provided by an employee of EasyEquities as general market commentary and does not constitute investment advice for the purposes of the Financial Advisory and Intermediary Services Act, 2002. First World Trader (Pty) Ltd t/a EasyEquities ("EasyEquities") does not warrant the correctness, accuracy, reliability or completeness of any information received from third party data providers. You must rely solely upon your own judgment in all aspects of your investment decisions and all investments are made at your own risk. EasyEquities (including any of their employees) will not accept any liability for any direct or indirect loss or damage, including without limitation, any loss of profit, which may arise directly or indirectly from use of or reliance on the market commentary. The content contained within is subject to change at any time without notice.