Our competition whereby you could have won a trip to Maranello, Italy the home of Ferrari with Pablo Clark Racing concluded on the 14th Feb 2019 with the draw happening on the 15th Feb 2019.
The draw was held at the Pablo Clark Racing shop, with the owner of Pablo Clark Racing, Paolo Cavalieri (ex works BMW driver in the 80's, multiple race winner in various South African categories, Ferrari collector and enthusiast) pulling the lucky winners out of a helmet.
See here for the video of the draw: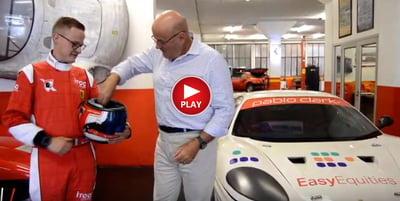 Calendar winners:
Christiaan Harold Smook
Thapelo Mabuye
Michael Davis
Hotlap winners:
Stephanie Martinis
Bjorn Ruppelt - Unfortunately Bjorn won the main prize but is under 18 yrs of age so Patrick Davids moved up into it and Bjorn will get driven around Zwartkops in a Ferrari by one of Pablo Clarks pro drivers
This weekend, we have our two winners of the competition visiting the Pablo Clark racing shop to meet the team and get readyto leave next week.
We asked the main winners for the all expenses paid trip to Maranello Italy some quick questions and for a video, see what they had to say below:
In the first blog we ask Patrick questions and had a video from Jandre, this time we have changed that around.
Jandre Marais
Tell us a bit about yourself?
Growing up on a farm just outside of Ermelo I was always interested in the mechanics of machines. Following my passion I went on to complete my B.Eng degree in Mechanical engineering. I was then blessed with the opportunity to work for a mining conglomerate where I focus mainly on mobile equipment in terms of acquisitions and maintenance. I have since developed my career further in obtaining professional status in both project management (PMP) and Professional Engineer (Pr.eng).
How did you come across EasyEquities?
I was not happy with the returns that I received from my managed investments and thus I started educating myself and attending investment courses in the aim to trade shares in my personal capacity. With my main focus on ease of investing and low transaction costs. After a quick search on the web I came across EasyEquities, I registered, tested the demo for a few weeks and the rest is history.
What do you like best about EasyEquities
As the name states its really easy to invest, the platform is very interactive and easy to understand. This makes investing fun with everything that I need all in one place.
Why did you enter the competition?
It's been a lifelong dream to work as a design Engineer for Ferrari, entering the competition and owning shares in Ferrari is a way for me to get closer to my dream. Also, owning Ferrari shares, I mean that's pretty cool!
What does winning the prize mean to you?
What can I say, the word Ferrari gives almost any person Goosebumps.
It still feels unreal that I am going to the home of Ferrari in Italy. I must still be dreaming but it seems that dreams do come true. There is no better way to drive a Ferrari than doing it in the mountains of Maranello
Patrick Davids
Patrick sent us a video on how excited he is about the trip - see below:
Jandre and Patrick will leave for Italy with the Pablo Clark team on the 19th March, the lucky buggers and experience all there is at the home of Ferrari, Maranello.
Too see what Jandre and Patrick will be experiencing click HERE.