In the run up to EFC 77, we've been in touch with EFC legend, and Parktown Old Boy, Andrew van Zyl. The teacher and recently retired Mixed Martial Arts athlete with Extreme Fighting Championship, took time out to answer a few of my questions. Check out what 'One Gear' had to say about investing in his passion, and the side of Andrew few would expect.
As an investor, I wanted to immediately understand what it took for Andrew to have reached his level of success. More succinctly, what did he have to 'invest' to get to that point and what, of course, were the dividends in his journey:
"The most rewarding moment in my EFC career was being recognized as a professional athlete. The EFC created a platform for me to perform at the highest level in this country," he said, although I had guessed that he would say winning the EFC Heavyweight Championship the first time around - his humility spoke volumes in his response.
So often people think that the real rewards are material, but as a newbie investor I have learnt that the journey is just as rewarding. Having a platform that allows you to take control of your own adventure, learn along the way, and reap rewards makes all the difference. #DIY!
As a student (in financial markets) I wanted to understand the kind of sacrifice it took to reach the heights he has over his 17-year career: "Time." An understated resource that millennial investors have on our side once we've decided to take on financial fitness.
However an athlete who doubles as a teacher needs all the time he has at his disposal to achieve all that he has. Andrew added: "Working and succeeding on two different fronts became exceedingly difficult for me. In my case, I had missed the MMA bus. There is more longevity in life as an educator."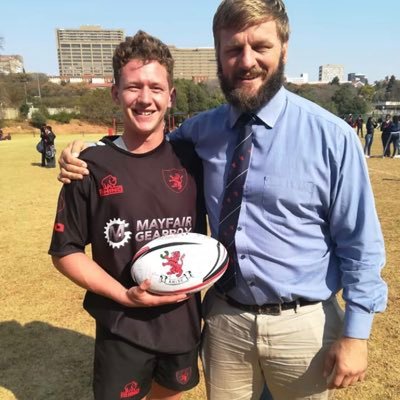 Coach: Andrew van Zyl
With teaching being its own battle requiring dedication and commitment, I wanted to know more. What brought him the most joy in that field, and what he considered a success in that arena.
"When young men reach their true potential, and knowing that you had a part to play in their success. I have experienced this on many different levels," the First Team Rugby coach at Parktown Boys highlights with pride. As a coach, teacher, and someone who has stepped from the sidelines and put in work inside the hexagon, Andrew emphasizes: "There are no easy fights. Hard work beats talent, resilience."
In the background, it looks like Andrew is combining his love of coaching with his MMA experience by coaching at his own facility. "Watch this space!" He boasts enthusiastically.
Watch: Andrew van Zyl retirement press conference
A big part in Mr van Zyl's resilience was his versatility. By diversifying his skills in the hexagon in combining power, technique, and the know-how in submissions, Andrew ensured he would have endurance on his side to protect him against the troughs in the arena. Does that remind you any principles often preached in the financial arena?
Diversification is key to thriving. In order to counter the unforeseen swings (in the markets), an investor needs to have more than one trick on deck. Another lesson emphasized by Andrew is to 'remember the simple things.'
Taking a step away from MMA, lastly, I wanted to know what else Andrew is into that people wouldn't expect from an MMA legend.
"Comic book/memorabilia and fly fishing," he told me.
'Bull or Bear?' I asked him, to which he responded: "The market is on the Bears' side."

Select image to find out how you can get in on the action through #EasyEFC
stand a chance to train among the elites and win R5 000!