Our holding company Purple Group and its brands; GT247.com, EasyEquities, RISE and Emperor Asset Management, have released exciting interim results. Some standout stats that we're really proud of are a 41.9% increase in revenue and only 0.7% increase in expenses. The team have worked hard to drive growth while continuing to innovate and deliver on new features and services.
SUMMARY OF RESULTS: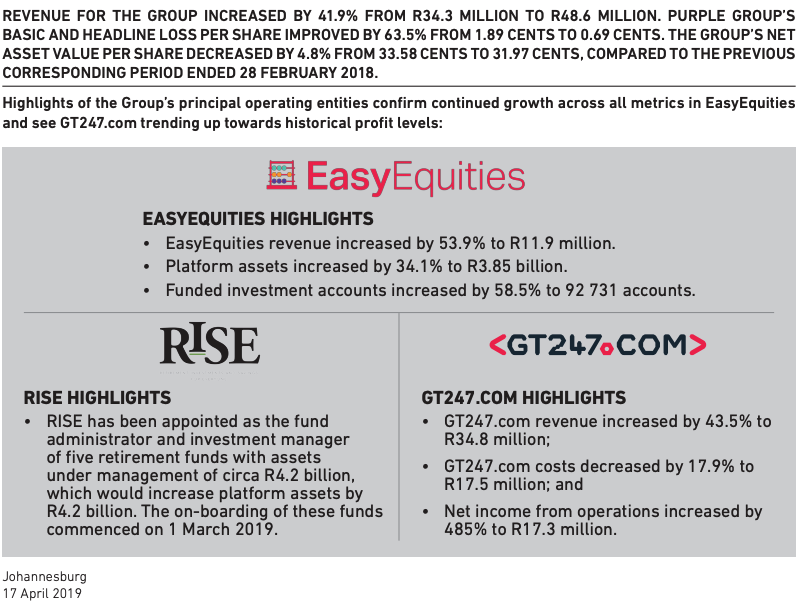 This short-form announcement is the responsibility of the directors and is only a summary of the information in the full announcement and does not contain full or complete details. See full results HERE.
Charles Savage, Purple Group CEO, weighs in on the results:
"An admirable set of half year results has set the tempo for an exciting 2019 for the Purple Group. To the ever-increasing loyal shareholders who support our dreams to democratise all things investing, these results should come as no surprise.
The resilience of our strategies and the determination of our team to deliver, despite the difficult economic climate, is commendable and the rising tide of everyday South Africans taking up investing for the very first time continues to lift the group.
The challenges of scaling a business are a part of every disruptive digital success story and they are very much a part of our story too. If you look at companies like Facebook or Amazon, their journeys haven't been without challenges either. Why? Because like us, they're constantly pushing to drive scale and exponential growth in their business. This means adding new features, bringing on new partners and supporting a customer base whose trajectory is anything but horizontal.
"Every day is our biggest day, every month new records are broken and each quarter we climb our very own Everest. There is never a moment to so sit back and relax… and we are grateful for that. In fact, we love every moment of it. It's what gets us all out of bed early - knowing that we are increasing participation in investing in the stock market and making investing fun for everyone is an exciting endeavour."
We are scaling for a future where millions of customers are investing billions of Rands every single day, and we are getting there faster than we could ever have dreamed. We take your security of assets, data and the integrity of our systems very, very seriously whilst balancing the need to deliver faster, easier, cheaper, better financial services. We are very grateful to all our stakeholders for being a part of this incredible journey and are extremely proud of the ever increasing role of partners that continue to join us in our cause.
The next 6 months are full of more challenges and ever greater opportunities, we look forward to sharing the outcomes with you."
Read the full unaudited condensed consolidated results HERE.
Not an Easy investor yet? Open a free account and gain access to share ownership in all JSE listed companies including Purple Group!