On Saturday, 20th April 2019 the 50th edition of the Two Oceans Ultra Marathon and 20th with its sponsor Old Mutual took place. The race is 56km long and is often described as the most beautiful marathon in the world, it takes place in Cape Town and touches on one of South Africa's most scenic coastline. With the race being the second most prestigious Ultra Marathon in South Africa behind the Comrades Marathon (which it is a great training and qualifying race for) there was great uptake in the South African community as well as with International runners.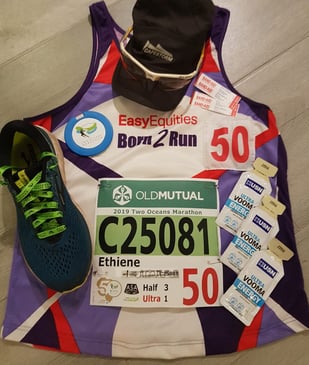 In fact, the 50th edition of the race had such support from runners that within just 6 hours the maximum entry allocation was exceeded and race organizers had to try to accommodate potential runners after the initial opening of entries.

We had good uptake from many of our EasyEquities Born2Run club members and awesome results across the board for novice and elite runners alike. Across our 4 branches JHB, PTA, EL and CT, we had a total of 89 runners, broken down as such:
East London 35
JHB 23
PTA 14
CPT 17
It was also the first time this year all our heads of state from the different clubs around the country could meet up before the race and catch up over a cup of coffee or two.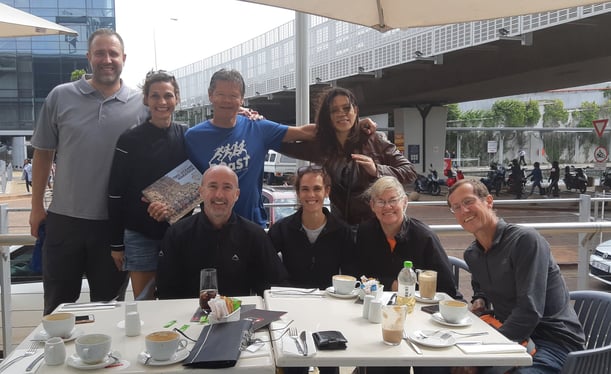 Some of the results were:
21km race
Hanlie Botha (pictured below) won a gold medal finishing as the 10th overall lady and winning her age group 40-49 years. This makes it Hanlie's 3rd gold medal at the Two Oceans.
Makaya Masumpa (pictured below) also won the 50+ category for the second time, in a time of just 82minutes.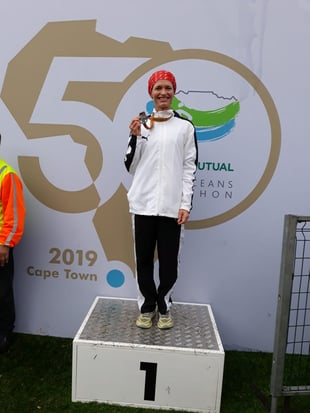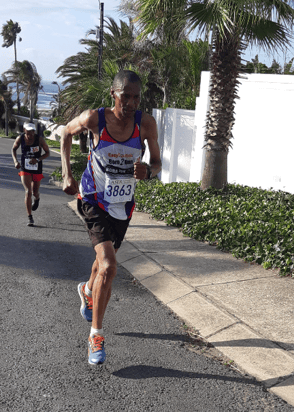 Other mentions were:
Myrette Brink -21st Women
Musa Nkosi - 23rd man
Reghen Magwai - 30th Man
In the ultra 56km
Our East London women did well:
Caryn Lategan 25th In 4hr22min with a PB
Lauren Ranger 29th in 4:24:36 with a PB
Andrea Ranger 33rd with a PB 4hr27min
Glenn Driver from or JHB branch was the 99th man home in a time of 3hr53min, winning a silver medal.
Numerous Sainsbury medals (under 5hrs) were achieved and also many Bronze medals.
See some pics below from the day.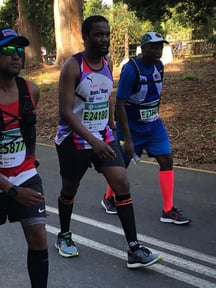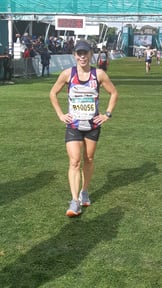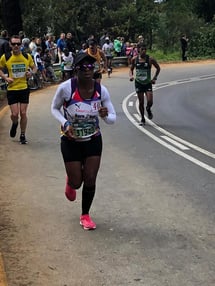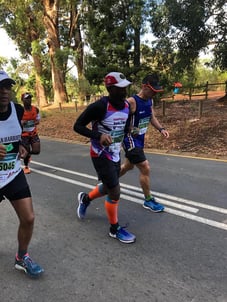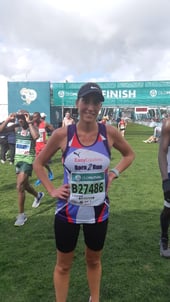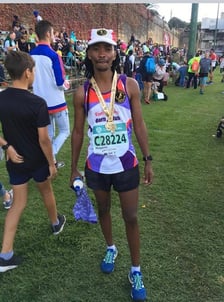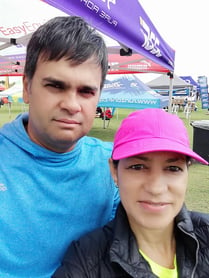 Hosts of the gazebos' always make the race day and experience worthwhile, as the provide a place for the athletes to gather after the race and grab some drinks and some food. Thanks to our Cape Town based host Berenice Timothy who with her husband Julian hosted gazebo on race day.
All in all, it was a great day out for EasyEquities Born2Run and by the looks of it one thoroughly enjoyed by all. It's onwards and upwards now until the Comrades Marathon on the 9th of June.
For more information about our club see HERE.