Brandon Valjalo - national skating champion and one of the coolest EasyEquities partners we've had – will take the world by storm. There, I called it. Many others in the skating industry see his potential as well, but it's time others know about the young lion.
The 21 year old has been around the world and succeeded at various international skating competitions. Brandon has done such a great job at representing our continent and country that international peers have dubbed him 'Simba.'
Check out the Q&A with Brandon below.
Why Simba?
Funny story actually. When I finished high school and went to California my good friend Zander Gabriel gave me the nickname "Simba" because well my hair looked like a lion's mane and I was also from Africa.
You've mentioned before how the skate park is your office. So when you're not at work, what else do you enjoy doing?
I love spending time with my family and friends. Especially when we get up to doing activities such as go-karting and bowling. We are all very competitive, so it gets extremely heated but also very entertaining.
I stay active by playing other sports such as golf and soccer. You could also find me behind a textbook - I am currently studying a marketing degree online through IMM graduate school.
I really like music, so in my free time I go searching for some new hidden gems - I definitely like hip hop music but I also enjoy different kinds of genres including techno. Have to be able to cater for different groups of people when you get the aux cord, if you know what I'm saying.
Lately though, I enjoy keeping up with current affairs in the business world so that I know where I would like to invest my money. It has almost become a hobby for me.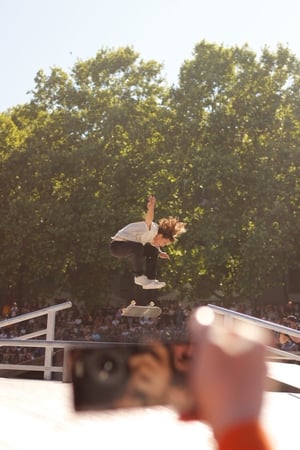 You win the lotto tomorrow (R1 Billion), besides investing, what are you spending it on?
I would start by helping my family members that are struggling at the moment. I would also get my dad to retire, after he has given his whole life to providing for our family and giving us the opportunities we have had today.
Once I have helped out everyone close to me, I would spoil myself a little by buying myself some nice things including sports cars, nice property in a good location, and I would use the capital to start up my own company.
What's more important, time or money?
Money comes and goes but you can never get your time back.
Tank tops or pullovers?
It really depends on the weather but I'm a huge fan of pullover hoodies. They're comfortable and stylish all together - I don't really have big muscles so I tend to stay away from tank tops haha.
What's your favourite brand/company?
There are a lot of companies that are in the running of being my favourite brand. It always seems to change based on the latest innovation and promotion that I get exposed to.
However, if I had to choose one specific brand it would most probably be Apple as it plays an important part in my everyday life. From the videos I film, documenting my travels, and also connecting with friends I've made all around the world!
You're a brand yourself (no pun intended). What can your audience expect from the Brandon Valjalo brand in the next couple years (3-5 years)?
I don't really know exactly what the future holds for me. In the next 3-5 years I would like to have skated in 2 Olympic Games, including Tokyo and Paris. After the Olympics next year, I would like to get involved with the South African Skateboarding Federation to help breed the next generation of Olympic Skateboarders in South Africa.
I'm also currently studying an online marketing degree so hopefully I would have been able to finish my degree within that time period. I would like to believe that I would have started my own business venture by then but I'm not trying to rush the process - and would rather start the company once I am fully prepared.
Last one, and I'm sure we can guess the answer to this one. What is your spirit animal?
I feel almost obligated to say a lion.