Peak to trough, the All Share index lost 35% during the Corona Crisis and has in recent weeks bounced 37%. And although we don't have a crystal ball, if history is anything to go by, stock markets are volatile but they do, invariably, bounce back.
In the words of Ice Hockey legend, Wayne Gretzky; "Skate to where the puck is going, and not to where it has been."
Looking forward, we want to be invested in companies that have strong balance sheets, the capacity to survive months of lockdown without revenue and a product offering that the consumer cannot do without (or at least think they cannot do without).
Watch latest webinar
featuring Anthea Gardner
While Tencent's recent results announcement sent their share soaring to 2-year highs, Naspers, which is a 33% shareholder in the Chinese online gaming company, has lagged. The discount has widened to near all-time highs, despite Naspers, excluding Tencent, having established a very attractive investment portfolio. We want to own Naspers.
FirstRand has always been one of my top picks, and not because I have worked for them, but because year after year they have produced Return on Equity numbers distinctly superior to their peers. They remain conservative in their approach to provisioning for bad loans and in these troubled times, that should stand them in good stead.
It's not cheap on a 117 times Price Earnings (PE) ratio (that makes my eyes water!) but who wouldn't want to be invested in a company where the founder and CEO has no problem standing up and saying: "If you're a shareowner in Amazon, you many want to take a seat, because we're not thinking small" and proudly announces net sales for the first quarter of 2020 increased by 26% to $75.5bn and Operating Cash Flow is up 16%.
Some shares that have suffered (perhaps unduly, and perhaps warranted) during the crisis include Sasol, MTN and Synchrony Financials. The shares remain volatile, so keep a careful eye on those for trading opportunities.
Enjoy your investment journey and remember: "You miss 100% of the shots you don't take" ~ Wayne Gretzky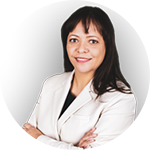 Anthea Gardner
Any opinions, news, research, reports, analyses, prices, or other information contained within this research is provided by Anthea Gardner, founder of Cartesian Capital (Pty) Ltd as general market commentary, and does not constitute investment advice for the purposes of the Financial Advisory and Intermediary Services Act, 2002. First World Trader (Pty) Ltd t/a EasyEquities ("EasyEquities") does not warrant the correctness, accuracy, timeliness, reliability or completeness of any information (i) contained within this research and (ii) received from third party data providers. You must rely solely upon your own judgment in all aspects of your investment and/or trading decisions and all investments and/or trades are made at your own risk. EasyEquities (including any of their employees) will not accept any liability for any direct or indirect loss or damage, including without limitation, any loss of profit, which may arise directly or indirectly from use of or reliance on the market commentary. The content contained within is subject to change at any time without notice.