Tesla is about 24% of my international portfolio. By far the largest holding in my portfolio, and I will continue to add it to my portfolio if the share price drops slightly.
I started building my position at around $360, and on the FinMeUp app we posted that we are buying Tesla at $420. The current price is now around $815 - a return of 94% thus far.
The stock picks on the FinMeUp app is where we share which companies/ETF's we are buying, holding and selling with our reasoning and research. Everything we post is of our own opinion and not financial advice.
Our stocks picks have gained an average of 23% since we posted our first stock pick 3 months ago.
I love Tesla. Some of the reasons are:
They are well diversified. Tesla manufactures and provides e

lectric vehicles (Model Y, Model 3, Cybertrucks etc), ho

use batteries and s

olar panels, g

lass roof tiles, r

obotaxi's (autonomous taxis are in the pipeline), c

hargers, i

nsurance, e

ntertainment and technology (infotainment)

Tesla is light-years ahead of their competitors in so many aspects.

Demand is greater than supply (great problem to have). They are solving this by building more Gigafactories.

Cost of producing batteries are continuously decreasing, which means Tesla's margin will increase as time goes. With the lower production costs, they can lower the selling price of the vehicles, leading to higher sales.

The movement to clean energy will benefit Tesla's vehicle and solar panel sales.

I love Elon Musk and the amount of continuous innovation in Tesla.
In our recent podcast, available only on the FinMeUp app, we talk about our personal predictions for the next few years. Tesla features in 3 predictions.
Covid-19 will most probably affect Tesla car sales in Q2 and even Q3, but they managed to increase their sales in Q1, even with the pandemic going on while the auto manufacturers are bleeding profits. I won't be surprised if Tesla gains/gained massive market share in these uncertain times. Innovation is the greatest weapon in times of uncertainty. Elon Musk in the king of innovation.
They have cash that enables them to weather the storm as they are sitting on a cash pile of about $7 billion.
Bearing in mind that most companies will be badly affected in a recession, it is important to plan post-recession. In times of uncertainty and panic, opportunities are made. Markets are forward looking, which may be the reason for the recent rally.
If, like me, you think electric vehicles will be the new in-thing then we would share the opinion that Tesla will win.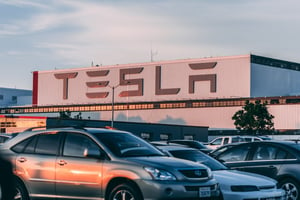 They make acquisitions that fit into their plan and make them even more dominant. They continue to innovate and execute. Tesla just announced that they are dropping the prices of Tesla vehicles by up to $5 000. This means that the demand for Tesla vehicles could skyrocket as more people begin to afford it. Elon Musk probably saw an opportunity now to accelerate the move to EV's.
Sidenote: Elon is a genius and usually does what he says and plans.
He has a CEO payment plan, and most of his wealth is invested in Tesla. That is always a confidence booster when management, especially Elon Musk, has skin the game.
Tesla spends so little on their advertising - their product advertises itself through their amazing quality and customer satisfaction. If you search Tesla reviews on Youtube, you will see numerous positive reviews of their cars. Positive public sentiment is important.
Many businesses model their product and services on this simple equation:
customer satisfaction = value = A GOOD BUSINESS.
Tesla's year-on-year sales increased 40% in Q1 of 2020 - this is with the ongoing pandemic. If you look at the history Q1 is always a bad quarter for car sales. Tesla just contradicted that norm. The demand for Tesla is on the rise, and so is the supply with their Gigafactory expansion.
Battery investor day is also approaching, who knows what news/announcements will be shared?
I'm guessing it will be something big.
Tesla's share price is extremely volatile and will continue to be. That is why as an investor in Tesla I stand firm in my decision based on the fundamentals, and avoid making emotional decisions.
Investing is a long term game after all.
If you want to view more of our stock picks and research, you can watch some of our insights via our FinMeUp YouTube channel. We also have an app which provides you stock research, daily business quizzes, as well as a fun trading game.
With everything said, always do your own research. In fact, I encourage you to do your own research on Tesla as well. People either love or hate Tesla - I am definitely a lover.
Personally, I will continue to hold the stock over the next few years and will be looking to add more shares should the opportunity present itself during the dips.
Now if you ask me what car I want to drive when I'm older, it's a Tesla. I know I'm not the only one with that answer.
Read:
Starting a portfolio from scratch?
Higgo van Biljon
Easy user, Founder & CEO FinMeUp
Any opinions, news, research, reports, analyses, prices, or other information contained within this research is provided by Higgo van Biljon, Founder and Chief Executive Officer of FinMeUp as general market commentary, and does not constitute investment advice for the purposes of the Financial Advisory and Intermediary Services Act, 2002. First World Trader (Pty) Ltd t/a EasyEquities ("EasyEquities") does not warrant the correctness, accuracy, timeliness, reliability or completeness of any information (i) contained within this research and (ii) received from third party data providers. You must rely solely upon your own judgment in all aspects of your investment and/or trading decisions and all investments and/or trades are made at your own risk. EasyEquities (including any of their employees) will not accept any liability for any direct or indirect loss or damage, including without limitation, any loss of profit, which may arise directly or indirectly from use of or reliance on the market commentary. The content contained within is subject to change at any time without notice.