What does determination look and sound like?
To me, it sounds like a drama student with a passion for acting. It looks like an entrepreneur selling fruit juice. A passionate entertainer beginning their journey in media from a backroom and little else. I found all of this when looking through the EasyEquities Twitter feed in search of my next user story. His name is Lethu Mlonzi, hailing from the city of Port Elizabeth. With so much on his plate, Lethu wants the same thing many South Africans wake up in the morning to achieve: to thrive.
"I am the second of five children, born in Port Elizabeth though I grew up in Mthatha and Cape Town. I would help out at my grandfather's shop during school holidays." Although he may have made for a great shopkeeper, Lethu had other ideas growing up in his maternal granddad's shop. It was in his youth when the acting bug bit him. While studying drama in university, Lethu was lucky enough to score roles on SABC1's Divers Down. "Since then I have done shows such as Interrogation Room, Stokvel, and Generations."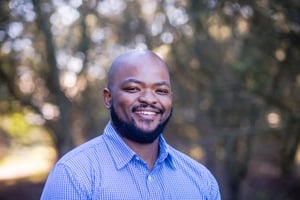 Lethu has taken a step back from being in front of the camera to create a media company with a business partner, and plans to return to acting some day. For now, the entrepreneur is focused on excelling as a business man in the media and manufacturing space.
While Lethu strikes me as an open and passionate individual set to make it in the world, he reminds me of his financial objectives in tandem with his professional and personal interests. "I want to Thrive in my financial goals."
I wanted to know the sacrifices he is making to reach his targets and get Thriving. "I have a sweet tooth so my weakness is buying sweets and anything that tastes good. So everytime I get a craving to take that money [I want to] invest it. I have tried but failed, but I will try until I can achieve it." Lethu then continued "I have become aware to change my mindset about investing because EasyEquities made it fun, enjoyable, and hassle-free."
R500 000 may go a long way in allowing Lethu the freedom to focus on his passion and business ventures. EasyEquities and Emperor Asset Management promises to cover one lucky Thrivalist's lifetime savings by hooking them up with half a million Rands in their TFSA. "I want to Thrive in my business and investment portfolio. Personally, I want to Thrive in my well-being, my spiritual being, and happiness."
While Lethu may have the taste for good food, he appears more hungry for knowledge and investing lately. "I look up to Robert Kiyosaki, Warren Buffett, and my cousin (shout out to Asanda)." Food and beverage seems to be a major theme in Lethu's life as he also created his own fruit juice, called Impilo Juice.
It's through Lethu and the many other South Africans out there hustling that I've realised there's a huge difference between surviving and Thriving. It's about waking up everyday and getting involved in the different lives around you and making a difference; a mantra that TeamEasy lives by.