As our front runners lead the way in fulfilling an epic achievement, running alongside 18 000 other athletes, only 10 men and 10 women will win a Comrades gold medal.
To lead the way, you need focus, direction and a specific goal in mind.
With the introduction of fresh additions to the age-old Comrades traditions, the winners will lift the Comrades gold caduceus to the world. The caduceus is a symbol of diligence and prudence, a rod assigned to the Greek God, Hermes, the protector of travelers and sportsmen.
The winner is also presented with a black and gold Comrades Winners Jacket. These are the moments which these athletes work so hard for; extraordinary achievements that are showcased in memories, to be cemented in history.
There are 10 Comrades Gold medals up for grabs in the Men's and another 10 in the Women's Toyota Race for Gold. Who will prevail and win themselves the coveted Comrades Gold medals?
Watch the Toyota Race for Gold as it unfolds on Sunday, 10 June 2018 and see for yourself who claims the honours as SABC Sport brings you 13 hours of live coverage as of 5am from the largest brick building in the southern hemisphere, the Pietermaritzburg City Hall and culminating at the landmark Moses Mabhida Stadium!
While the average Comrades Marathon runner will complete their race just within the allotted 12 hours, we bring you a list of the male and female contenders who will be raring to go. Asijiki! These are the ones to watch:
MEN
Arthur Ford Athletics Club
Bongmusa Mthembu
Mthembu became the first South African to win the race more than once since Bruce Fordyce when he strolled to victory last year. Since winning his first Comrades in 2014, Mthembu who hails from Bulwer in KZN has developed into a household name across the country. He enjoyed a tough training camp in Ethiopia in earlier this year and will be expected to lead a strong South African contingent in 2018.
Nkosinathi Duma
Duma has a silver medal to his name and will be pushing for a maiden top ten finish. He has never finished the Down Run previously but heads into this year's race in good form. Will look to stay alongside his stable mate, Bongmusa Mthembu and challenge for a lofty position.
Maxed Elite
Teboho Sello
With two gold medals in his locker and good mileage in his legs, Sello will be expected to once again challenge for a top ten position. He led to Fields Hill back in 2016, setting up a frantic pace which helped set David Gatebe on his way to a new record. He eventually succumbed to cramp and slipped to 11th, will look to build on that promising performance.
Prodigal Khumalo
Zimbabwe born, Khumalo has made South Africa his home. The 36-year-old heads into the 2018 Comrades brimming with confidence. He won the Zululand Ultra Marathon in March on the back of a win at the Cape Trail 100km event. Has two gold medals and is very capable of mixing it up with the best on race day.
Mncedisi Mkhize
Mkhize is a KZN based athlete with seven Comrades gold medals. Finished fourth at the Nongoma 56km Marathon after coming back from an injury ravaged 2017. In 2016 he finished tenth in a time of 5:37. He will be chasing sub 5:30 on the day.
Collen Makaza
Makaza is ready push for a big finish at Comrades for the first time in his career. His only previous attempt came in 2014 where he managed a silver. The six time Two Oceans gold medalist can be very dangerous in full flight. He is an outside contender for gold.
KPMG
Rufus Photo
Rufus Photo has won three gold medals since he began running Comrades in 2012. Two of those top ten finishes have come in the Down Run. There is no doubt that he prefers the route down to Durban and will be aiming for yet another good performance, this time under the arch of the Moses Mabhida Stadium.
Entsika Athletics Club
Gift Kelehe
The 2015 winner has been among the most consistent athletes in South Africa over the last decade. Kelehe has five gold medals from his seven previous Comrades. He wants to join the elite of list of runners with Up Run and Down Run wins to their name. The 2018 race is the perfect opportunity for Kelehe to improve on what has already been a stellar career.
David Gatebe
Gatebe is back to defend his Down Run title. Few can forget his record breaking feat back in 2016 when left the field in his wake. Has once again enjoyed a good training camp in Dullstroom, will arrive at Comrades 2018 targeting a podium finish.
Gordon Lesetedi
Lesetedi has four silver medals and is desperate to break into the top ten for the first time. Will have the guidance of club mates and former winners, David Gatebe and Gift Kelehe around him. With a Down Run PB of 05:59, Lesetedi knows he will have to go faster in order to achieve his goal.
Latudi Makofane
Makofane has a single gold medal from his eight finishes at Comrades. That came in 2014 in a PB of 05:40. Under the guidance of astute coach, John Hamlett, Makofane is capable of improving on his record.
Nedbank Running Club
Ludwick Mamabolo
Mamabolo is a master of the Down Run with four of his seven gold medals coming from the run towards the coast. His best finish came in 2012 when he romped to victory in a time of 5:31. In 2016 he showed that he can go even faster than that as he set a PB of 5:24 but could only manage second behind a rampant, David Gatebe. Is a fan favourite and can be expected to challenge for a podium spot once again.
Lungile Gongqa
Will be running his first Comrades in 2018. The 2017 Two Oceans Champion is an accomplished runner. Won the Cape Peninsula Marathon earlier this year. Will have a brilliant group of club mates around him to show him the ropes on race day.
Mike Fokoroni
The Zimbabwean is a familiar face at marathons across the country. Since his first Comrades in 2012, Fokoroni has picked up three gold medals. In 2016 he added a Two Oceans victory to his list of achievements. He has a Down Run PB of 5:35 and is very capable of improving on that time.
Marko Mambo
Mambo will line up at Comrades 2018 feeling fresh and confident of adding to the gold medal he won in 2012. The three times Two Oceans winner finished first at the Om Die Dam 50km earlier this year. He has a Down Run PB of 5:33 and the experience to upset the elite field on his day.
Hatiwande Nyamande
Nyamande finished as runner-up to Bongmusa Mthembu last year. It was his second podium finish after claiming third spot in 2015. His attempts at the Down Run in 2014 and 2016 were disappointing as he failed to finish. Has enjoyed a good training camp under Durban based coach, Cliff Chinnasamy. This could be the year where he finally goes all the way.
Fritjof Fagerlund.
The Swede finished tenth in last year's edition for his first gold medal. On debut in 2016, Fagerlund came 14th in a time of 5:45. The 43-year-old has competed across Europe and will be confident of staying in the lead bunch to push for higher honours
Steve Way
Way bagged a gold on debut in 2017. In doing so he became the first male British runner since Mick Orton who won the race in 1972 to pick up a coveted top ten finish. The Bournemouth born runner will fancy the altitude as heads down to the coast and could push on in the second half of the race.
Geoff Burns
The American novice did not finish last year but is back for a second crack in 2018. The former US 100km champion has a marathon PB of 2:24. The 28-year-old will be keen on ticking the Comrades Marathon off his bucket list. Will be an outside contender for a top ten finish.
Asier Cuevas
Cuevas is a disciplined athlete with a marathon PB of 2:14. The Spaniard is a former European 100km champion. Has the ability to go the distance and is a dark horse for a gold medal in 2018.
Ibon Esparza
Will look to run with fellow Spaniard, Asier Cueva on debut. Boasts a marathon PB of 2:24. Won the 100km Seregno in Italy back in 2015.
Tsotang Maine
The Lesotho born athlete has three top ten finishes at the Two Oceans Marathon but has never been able to finish the Comrades. Has a 56km PB of 3:09.
Melly Kennedy
Aiming to become the first Kenyan to win Comrades, Kennedy claimed a credible fourth position at the 2018 Two Oceans. Failed to finish as a novice last year, will be hoping to stay with the lead bunch on the way to Durban.
Independent
Stephen Muzhingi
Regarded by his peers as the hardest man in ultra-running, Muzhingi is back to try and claim a tenth gold medal. The three time winner last reached the podium back in 2011. The Zimbabwean who is now 42, remains a good bet to dazzle among the top runners once again.
WOMEN
KPMG
Caroline Wostmann
The 2015 winner is desperate to add a Down Run title to her name. Wostmann who is now 35, spent four weeks in Kenya in January at a stringent training camp preparing for this year's Comrades. A hamstring injury kept her out of last year's race but the mother of two is back and raring to claim a fourth gold medal.
Danette Smith
Smith made a serious impression on debut at last year's race. A composed, well timed run saw her claim eighth spot to land a coveted gold medal. At just 29, a lot more is expected of her in the coming years. She finished in third place at the Cape Peninsula 42km in February and will be pushing for back-to-back gold medals this year.
Yolande Maclean
Yolande Maclean has proved to be one of the Comrades Marathon's most consistent athletes. She boasts seven gold medals from the same number of starts. She has enjoyed a good start to the season, fending off a strong field to win the Pick 'n Pay 42km and also finished 8th in the 2018 Two Oceans Marathon. Will be a serious contender to register another top ten finish.
Mary Khourie
Khourie has two Comrades silver medals having narrowly missed out on gold last year as she finished 11th. Since her Comrades debut back in 2015, Khourie has evolved into a confident runner who can hold her own among the best runners in the country. The 34-year-old finished as runner-up at the Pick 'n Pay 42km and 11th at the 2018 Two Oceans Marathon.
Devon Yanko
The American is a seasoned athlete who has two Comrades gold medals to her name. She finished fifth on debut back in 2012 and returned last year to round off the top ten. With a Down Run PB of 6:39:59, Yanko will be expected to be in the leading group heading to Durban this year.
EasyEquities Born2Run
Stephanie Smith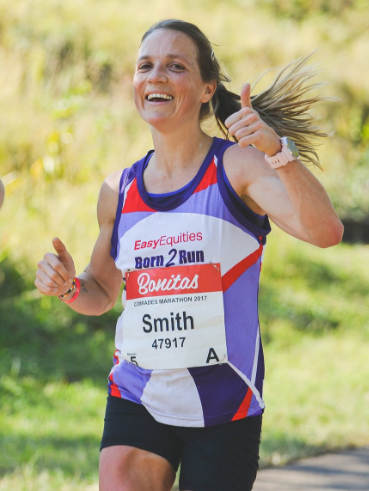 Smith won her first Comrades gold medal last year in her sixth attempt. Her ninth place finish has motivated her to return this year and try and capture back-to-back gold medals. The Eastern Cape athlete won the Bruintjieshoogte 50km in April and is in tip top condition heading into this year's Down Run.
Salome Cooper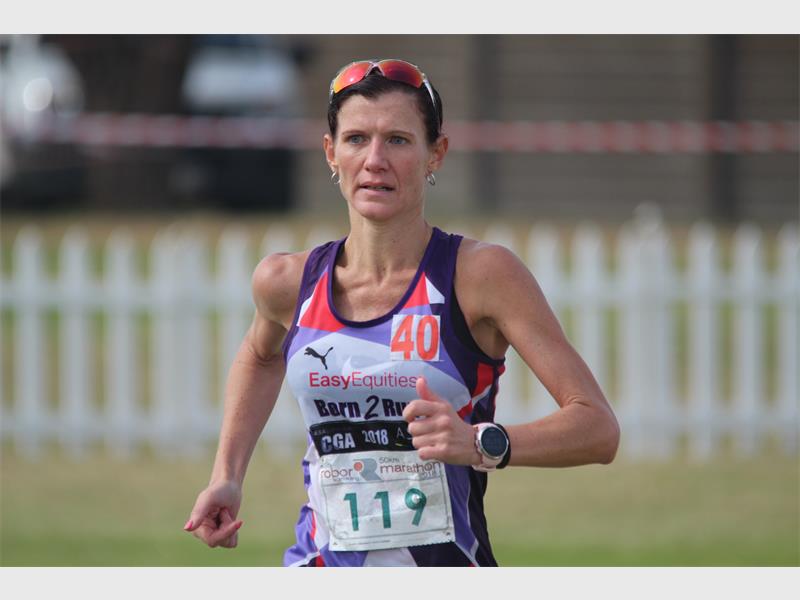 Cooper began running Comrades back in 2000 and is a well-known ultra-distance runner across the country. Her two Comrades gold medals have come in Down Runs. Cooper finished 4th at the Loskop Marathon in April and will be targeting a hat trick of top ten finishes at The Ultimate Human Race this year.
Nedbank Running Club
Gerda Steyn
At the age of just 28, Steyn already boasts an impressive CV. She won the 2018 Two Oceans Marathon off the back of an excellent 2017 campaign which saw her claim fourth spot at the Comrades Marathon. Steyn is in great shape and is among the favourites to reach the podium this year.
Charne Bosman
Bosman is the defending Down Run champion after she blitzed past Caroline Wostmann to win in 2016. The 42-year-old is in good shape, claimed a convincing victory at the Loskop Marathon in April. She has three podium finishes in a row and once again will be expected to challenge for top honours.
Fikile Mbuthuma
Mbuthuma is a seasoned Comrades runner with eleven medals to her name. She won her only gold back in 2016 and will look to add to that in this year's Down Run. The 38-year-old is fit and ready to go.
Sarah Bard
The American will be running her third Comrades having registered top ten finishes in her two previous races. With knowledge of the Down Run and Up Run under her belt, the 34-year-old has the potential to mount a serious challenge at this year's race.
Camille Herron
Herron stunned the field last year to win in only her second attempt at the race. She is arguably the top female ultra-runner in the world at the moment. The American is a former world champion at both 50 and 100km and is the current world record holder over 100 miles. She is in excellent shape and could become the first female since Elena Nurgalieva to win back-to-back races.
Team Massmart
Mia Morrison
The financial advisor by profession is a newcomer to Comrades but her marathon PB of 2:55 suggests that she may challenge for a silver medal. If she can maintain a good pace throughout the race then anything is possible.
Ramadimetja Babili
At the age of 27, this will be Babili's first crack at Comrades. She has been improving steadily since shifting her focus from middle distances to ultra-running. A fifth place finish at the Loskop Marathon in April means she will head into Comrades with bags of confidence.
Enie Manzini
This will be the 37-year-old's seventh Comrades. Over the years she has struggled to realize her full potential. With new personal bests across the 42,2km and 56km distances during the last year, Manzini has renewed confidence of landing her first silver medal.
Ann Ashworth
Under the guidance of renowned coach, John Hamlett, Ashworth has shown immense improvement in recent months. She won the Legends 68km, placed fifth at the 2018 Two Oceans and came runner-up at the Loskop Marathon. Given her form, Ashworth is a strong contender to land gold this year.
Vicky Cotter
Cotter's Comrades journey began ten years ago when she finished in a time of 8:36. Last year she completed the race in a time of 7:34:08 in 16th position. Her vast improvement over the years is down to her hard working nature. Is chomping at the bit to secure a silver medal.
Jenni Kruse
Kruse has six Comrades medals to her name with a PB of 7:42. The mother of three who is a medical doctor by profession ran a PB of 2:58 at the Secunda Marathon in February. Along with many of her club mates will be chasing a first ever silver medal.