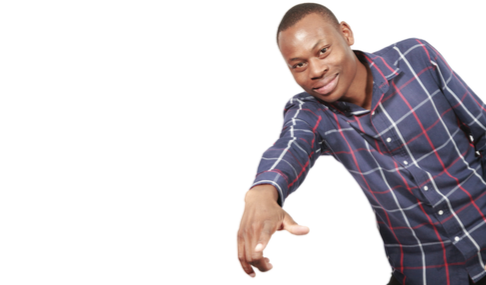 Valentine Madzhie is a 25-year-old artist manager and IT infrastructure assistant. He likes watching football, interacting on social media and reading books. "I became an investor in 2016," he says. "I decided it's time I let my money work for me by investing it in different shares."
Valetine says the most difficult part of investing is deciding where to put your money, but by doing research he has gained confidence.
"I regularly listen to the 702 Money Show and read the EasyEquities blog to help guide my investment decisions," he says. "My first share was African Rainbow Minerals, which has performed well for me – as well as Naspers."
What are Valentine's investment goals?
"Through my investments I hope to live stress free and watch my money grow! Who knows, maybe this year it will grow enough to help me fix my crooked teeth – LOL! "On the real, I invest to have a better tomorrow for myself and family."
Valentine says you have to be disciplined, but it's worth it.
"My strategy is to put in as much as I can, no matter how little it may be. R10 today could become R100 000 in 10 years' time.
"The most important thing I have learnt from investing, it's helped me to be more aware of my spending and I have become more interested in the economy."
Valentine has some good insights to share with first-time investors.
"It's never too late to see your money work for you," he says. "You will be surprised when you see your money go up then down then rocket up again. But remember to stick with your investment decisions. It is for the long term.
"EasyEquities is the best place to start. It's affordable, it's easy and it's user friendly. For me, the best way is to start with your own money rather than the demo account. Then you know you are invested."