EasyEquities has changed the way people invest in the stock market and every day we see brand new, first time investors engaging with the EasyEquities platform to start their investment journey. The platform certainly addresses most of the inhibiting factors often experienced at other stockbroking or investment platforms, but the one big problem first-time investors often face is "where should I start or what shares to Invest in?".
Funny enough, the answer to this question is relatively simple and often hiding under our noses. Every day of our lives we already invest in the brands and products we love, so why shouldn't we start investing in their shares? If I'm spending a large chunk of my hard earned money at a particular food retailer every month, I'm contributing to that company's bottom line and ultimately sustaining that company's growth. Doesn't it then make sense to participate in the prosperity of that company? Well, you can by owning their stock, which translates into owning a piece of that business. When you own a piece of the listed entity, you can share in their profits through dividends and benefit from their growth, through an increase in the share price.
So with this in mind, your roadmap to your first share portfolio in my view is your bank statement. By analysing your monthly spend and identifying the companies where most of your spend are going on a monthly basis, you can construct a balanced, often well-diversified stock portfolio. Granted, not all of the brands or companies you spend money with on a monthly basis are listed, but you'll definitely find a nice mix of listed entities that are. To illustrate my point I've included a snapshot of the monthly spend relating to a young professional by the name of John.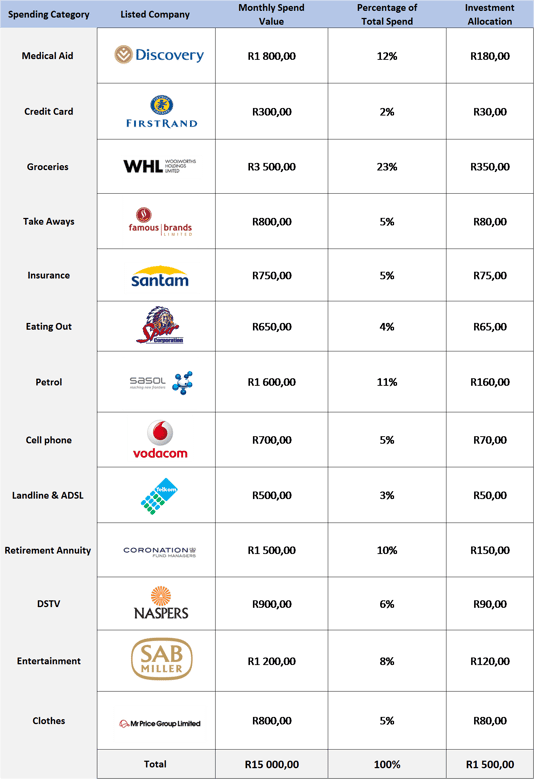 Just by analysing John's monthly spend and associating his spend with the particular listed company, we've constructed a share portfolio of 13 different stocks across various market sectors. John decided that he wanted to invest 10% of his monthly spend which is R 1,500 and we've distributed this investment into the individual shares based on the spend weighting. One of the many EasyEquities benefits is that you can invest in fractions of a share and this allows you to allocate smaller investments, in John's case R 90.00, to a Naspers share which usually would cost anything north of R 1,800.00 a share.
Keep in mind that you might have to do a little bit of Googling to determine who the listed entity associated with your spend is, but this shouldn't take you long to discover. For example, most of John's take away spend relates to Steers and Debonairs, but not everyone knows that Famous Brands is the holding company of those brands. Similarly, his credit card is with FNB, which is part of the First Rand Group.
By applying this logic to construct your first share portfolio, you'll end up with a collection of stocks that will give you an excellent base for some sound investments.