The Cartesian Talks webinar series is in full swing. Each week, Cartesian Capital MD Anthea Gardner talks guests through a different financial topic that's both interesting and relevant to today's investor. This week she discussed the behaviour of the rand in the context of the politics of the day.
"The rand is a structurally weakening currency," she said. "It is always going to weaken against hard currencies such as the dollar over the long term. This is in keeping with other emerging market currencies such as the Turkish lira, Russian rouble, Brazilian real and Indian rupee."
In fact, since 1992, when it was R3.05 for a US dollar, the rand has weakened more than 500% to Thursday's price of around R17.20.
Of course, that depreciation doesn't follow a straight line. There are domestic and global events that influence the value of the rand in the short term. Have a look at the graph below to see the impact of some of these events between 2008 and 2019.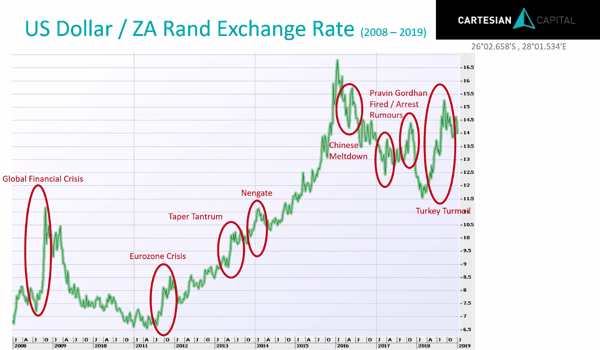 One of the most important things to remember in the face of the volatility of the rand is to keep enough assets to cover your expenses in the same currency, especially if you are retired.
"If you are retired in South Africa, your money should be here," she said. "It's just too risky to leave it overseas. Of course, offshore should always form part of your investment portfolio as you prepare for retirement, but once you retire your money should all be in the same country as you."
Anthea's special guest on the show was political analyst and author Judith February, who provided some excellent, considered insight into our current and past political situation.
"Covid has laid bare the fact that we have a government incapable of delivering," she said. "Citizens need to use their democratic muscle to demand satisfaction in big and small ways."
She warned that there are no quick fixes.
"This is the work of generations – and it requires action," she said. "Talking is great, but at some point we have to do!" She called on the general public to support civil institutions in order to uphold the constitution.
"The constitution is our guarantee of democracy," she said. "It's vital that we protect it."
Watch previous talks here.
Watch the full talk below:
Both Judith and Anthea have books out. Judith's book is called Turning and Turning: Exploring the complexities of South Africa's democracy. Anthea's is called Make Your Money Work For You: Think Big, Start Small.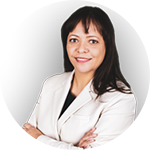 Anthea Gardner
Any opinions, news, research, reports, analyses, prices, or other information contained within this research is provided by Anthea Gardner, founder of Cartesian Capital (Pty) Ltd as general market commentary, and does not constitute investment advice for the purposes of the Financial Advisory and Intermediary Services Act, 2002. First World Trader (Pty) Ltd t/a EasyEquities ("EasyEquities") does not warrant the correctness, accuracy, timeliness, reliability or completeness of any information (i) contained within this research and (ii) received from third party data providers. You must rely solely upon your own judgment in all aspects of your investment and/or trading decisions and all investments and/or trades are made at your own risk. EasyEquities (including any of their employees) will not accept any liability for any direct or indirect loss or damage, including without limitation, any loss of profit, which may arise directly or indirectly from use of or reliance on the market commentary. The content contained within is subject to change at any time without notice.