Esther Mukumbo, shared her saving hack with our Easy community and got the most engagement on her post. She is a wife, mum, entrepreneur, a professional in development finance, she is an investor and she loves travelling #PowerHouse. Esther is passionate about empowering women and teaching women to invest.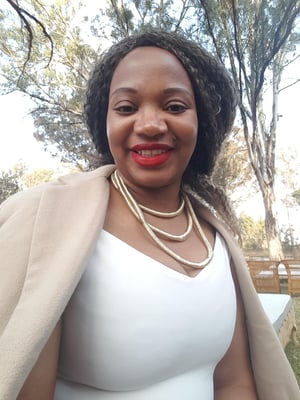 I am Esther Mukumbo, from the East Rand, Johannesburg. I am a professional in the Development Finance space and a part time entrepreneur. Esther and a group of her friends - young women, formed an investment company called Malkia Invest. She mentions that, "We started the company to empower ourselves as working women to learn about investing and to create wealth for ourselves"
She was introduced to EasyEquities by a colleague, whom she shared over a chat how the fees charged on a banks online share trading was deterring her from investing more on a monthly basis. She is interested in local and international Exchange Traded Funds (ETFs) and she currently loves Discovery and Standard Bank shares.
When I asked what motivated her to start investing she said, "My kids, I have two young kids aged 2 and 5 and I want to secure their financial future. I want to secure my family's financial future and have the financial freedom to travel and enjoy my life knowing that financially I am secure. I have realised that as long as I am not investing I am creating an opportunity for lack for myself and my family."
Esther wants to have a sizable diversified investment portfolio in the future that will give her the freedom to live a life where she can travel and enjoy the fruits of her investments. She genuinely thinks that people want to invest but don't have access to information. She continues by saying, "I am in my early 30's, I have noted that my peers are plagued by high levels of debt and responsibilities, along with the perception that investing is expensive, which sometimes hampers them from investing." She is a huge twitter fan and that is where she gets most of her information about investing, she follows the likes of EasyEquities, @ImcocoMash (Nicolette Mashile), @your_money_blog (Brendan), @brucebuiness (Bruce Whitfield 702), @Richards_Karin (Karin Richards) and Moneyweb.
I then asked her; " Where to from here?" To which Esther responded by saying, " My goal for the next 5 years is to consistently keep investing every month, it has required a mind shift from my side and having to constantly challenge myself to cut out spending such as going to the salon twice a month to once a month, doing my nails at home instead of going to a nail bar so I can save and invest the money."

Esther also shares how she desires to save more by saying she has made a conscious effort to invest R2000 a month and she hopes to find ways of saving more on a monthly basis so she can invest more. She continues to say, " I have realised that it's a constant choice to invest, EasyEquities is making it so easy for anyone to invest and own shares, it has made my life much easier, the fees charged are cheaper and I get access to invest in international companies like Amazon."
Check out Esther's awesome #DoubleUpOnSavings hack below: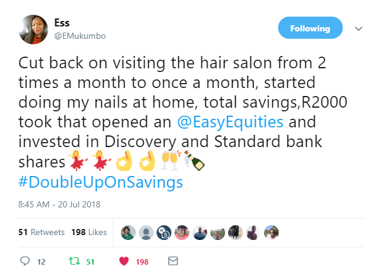 Connect with Esther on Twitter @EMukumbo