You're a shareholder (nice!) and the company you've got shares in invites you to their AGM. But your diary is sacred… and scribbled full of stuff. Work stuff. Family stuff. Friends stuff. Your cup of stuff overfloweth! So why should you go?
What is an AGM
An Annual General Meeting is a get-together that happens every year between the big dogs (directors) of a company and its investors (you). Think of it as your own tribal council, where you get to hear all about how the company has performed, what the plans are going forward and the decisions that you can vote on. Yep - you get to weigh in on things like new or existing directors getting elected, whether there should be a payment of dividends, and if certain fees are approved.
The big but's
Any shareholder can attend an AGM but not everyone gets a vote - only shareholders who hold whole shares by the last day to trade can attend and vote or submit a proxy, which allows someone else to vote on your behalf.
Non-shareholders can also attend but they'll need to sign a visitor's register and aren't allowed to ask any questions about the company or its results. They aren't VIP's like you!
Why go
You might have some general idea about the company you've invested in but AGM's can give you a bunch of information and insight that wouldn't normally be available to you. This could help you with some of your investment decisions. You'll be able to get a better idea of what management is like and what their vision is for the future of the company. Maybe you'll hear something you don't agree with, or maybe you'll see a reason to double your investment!
You'll also be surrounded by other shareholders – people who share the same interests as you. This creates an opportunity for you gather new perspectives, opinions and have discussions.
If I can do it…
Just yesterday I attended the Bidvest AGM – my first one ever! I wasn't sure what to expect and I must admit, I found the whole experience a little intimidating. There were mainly company directors and a (lovely welcoming) Chairperson, and although all attendees (even me with my 1 Bidvest share) were given an opportunity to ask questions, I was a little lost. A word of advice? Do your homework and make sure you read the annual report before you go, so you know what it is you are voting on. The more people (like you and I) that attend these things, the more "retail friendly" they'll get (we hope).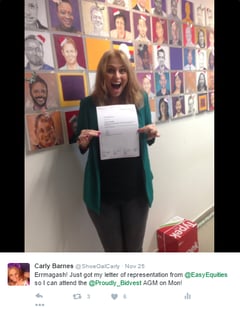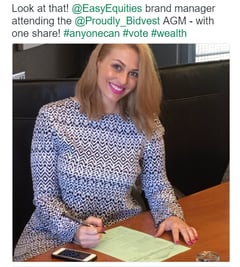 As an EasyEquities you-ser if you want to attend an AGM – do it! But there's a couple of things you'll need to know first:
If you're a shareholder, you'll get invited to an AGM via the companies' transfer secretary (E.g.: Computershare) via email or post.

Only the shares which you own or purchase by the last day to trade will count towards your attendance. If you buy shares in a company for the first time after this date, you won't be able to attend the AGM as a voting shareholder. Remember that shares take a few days to reflect in your name so they'd have to be purchased within the settlement time on or before the Last Day to Trade. Here's an example of how the Last Day to Trade is communicated in an AGM invite:

You'll need to take your ID and a letter of representation from us, which you can get by emailing meetings@easyequities.co.za. You can only apply for this after the Record Date, so that our team is sure you are on the register. Here's how the Record Date is communicated in an AGM invite:
Using the above example, this is how it would work. In order to be registered in the register of members by the Record Date (18 November 2016), you would have needed to buy the shares on or before the Last Day to Trade (15 November 2016). As long as you don't sell your shares any time before or on the Last Day to Trade you would automatically be recorded in the register of members on the record date. Try say that quickly!
Luckily you live in very techy times so a lot of the time you'll be able to attend the AGM virtually, instead of in person. You can often access an AGM via live streaming through your device or computer.