There is not an investment type in the world that doesn't come with risk. Risk refers to the potential for the value of an investment to drop below its expected performance. There are lots of variables to think about and assess when considering the risk associated with a particular investment, however, management dishonesty is one of the most difficult risks to assess even for professional investors.
InvestSure, a feature available on EasyEquities, gives you the ability to insure shares in your portfolio against this kind of risk.
What is management fraud?
Management wrong doing involves deceptive practices by management such as accounting fraud that influences investors to buy, sell or hold shares based on false information. As well practices that are in breach of regulatory or exchange listing rules and laws, causing significant losses.
Take a look at our infographic on management fraud, for more detail on the different types that occur and the myths that surround the concept.
How to apply InvestSure to your shares
You'll have the option to apply InvestSure to a new investment that you make, as well as to existing investments in your portfolio. This feature is currently only available on Top 100 JSE listed companies.
When making a new investment, you'll be given the opportunity to add insurance as part of the process of your transaction. When you reach the confirmation page under the line that shows your investment costs, you'll see an expandable drop down like this: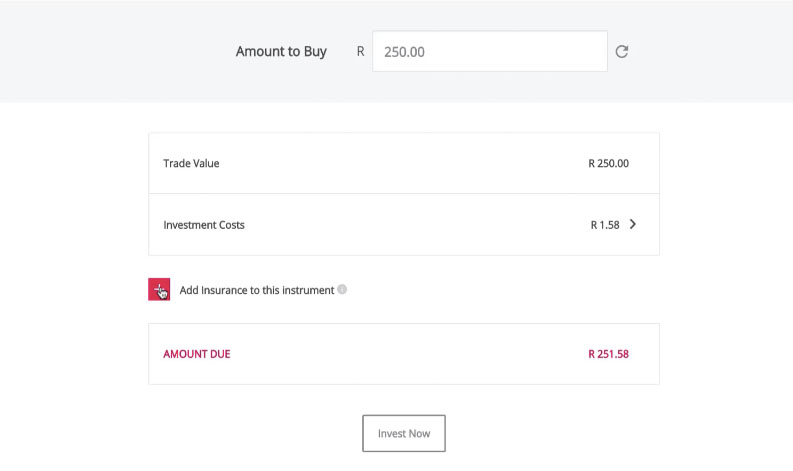 You'll then need to view and accept the policy terms, in order to confirm your insurance on the value of your investment into that particular share.
If you've already invested in shares that you'd now like to insure, you can do that in your account overview. Select the share you are interested in insuring, and then select the Review Insurance icon. You'll then be given the option to add insurance to a value of the investment that you choose.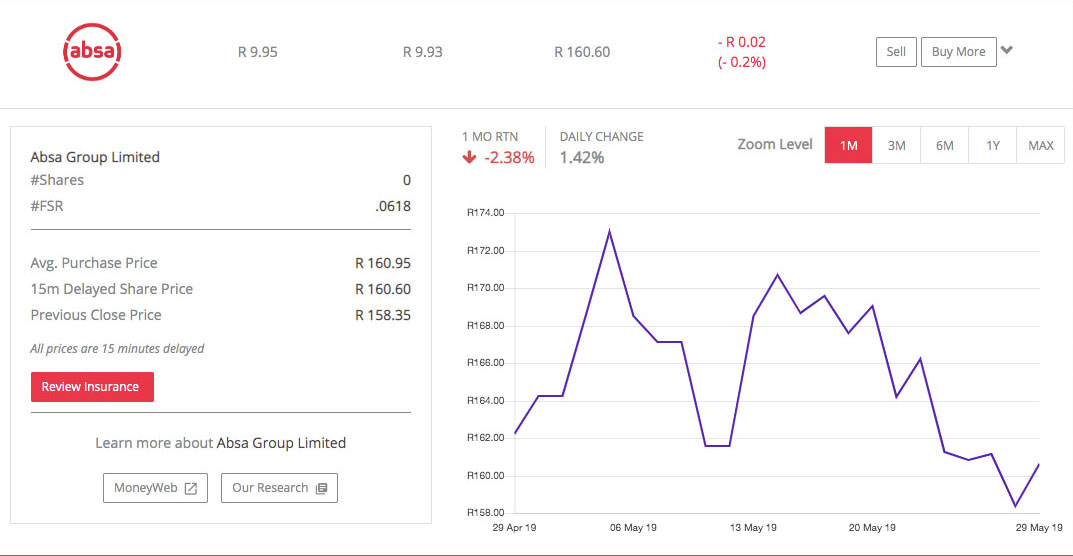 The costs of insuring shares in your portfolio
The product costs 0.56% of the value of your purchase. This translates to a cost of 56 cents for every 100 rand you invest.
This covers you for 12 months, even if the share price increases! Therefore if at the end of year one (1) the share price is R150, you will be covered for the full R150, despite paying 0.56% of R100.
How to claim the insurance on your share
If your insured share is triggered you'll get an e-mail which will allow you to recover some of the losses experienced by the share price. Claiming is as easy as selling your shares! Just sell the shares that are insured and you'll qualify for up to 70% of the share price the day before the event became news.
Read more on how claims work here.