Not too long ago we unlocked the U.S markets to South Africans hoping to invest in some of the biggest listed companies. As part of the campaign, we gave away prizes to active participants who completed the online challenges we set before them. One such winner was James Gous, who won the lunch for having made the most referrals. As a reward for staying engaged with our community, James got to have lunch with some of the decision makers and heavyweights from Purple Group, and partnering companies CN&CO, Advicement and InvestSure.
James then took time out to answer some of our questions.
How old are you?
I'm 23, turning 24 in May.
Where are you from?
I was born and raised in Pretoria - I went to Pretoria Boys High School and then TUKS thereafter.
What do you do by profession?
After I finished my BSc Hons Actuarial Science degree, I started working in the product development and pricing team at OUTsurance Life. So in a nutshell, I help develop new Life Insurance products and find ways to improve the operational side of the business too.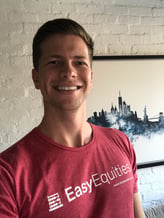 Any hobbies?
I'm a sport fanatic and love my music. I mainly play cricket, squash and soccer, as well as the saxophone and cello. I can also never say no to a fly-fishing trip!
When did you first join EasyEquities?
In June of 2017.
Why did you take an interest in investing?
I've always been passionate about investing. Since my high school days I have been interested in it – whether it be the actual investing part or just reading up on various investment/business topics from around the world. It's important to keep yourself informed about all the latest topics and economic climates in order to make educated investment decisions.
What were the first shares you bought?
The first shares I bought directly were that of Attacq (a property company on the JSE) back in 2013.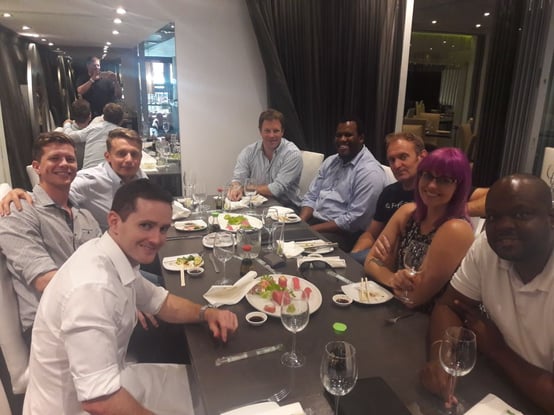 What US stocks are you most excited about at the moment and have you started using your live US account?
Unfortunately I haven't started using my live US account yet, but I plan on using it soon. I'm still busy understanding the dynamics of the US market in relation to that of the SA market. I think Tesla and Alphabet are two of the shares that I would keep my eyes on for the moment.
What were you most excited about asking the heavyweights at our lunch?
I was really keen on understanding the process the different parties went through to start their companies from scratch. It was also super interesting to hear all of their journeys and how they got to where they are today.
Was there anything that really inspired you?
It was inspiring to see how young the group of people were. This gives one a chance to try draw parallels and see how you could go about achieving similar goals.
What was the main takeaway you got from our chat?
Chatting to the heavyweights made me realize that one should appreciate failure and use failure to fuel your next goal/inspiration. One can learn so much from their failures compared to their successes. One should also not wait too long to create a 100% perfect company/product before going live, but instead go live sooner than later and learn/adapt as your company/product grows.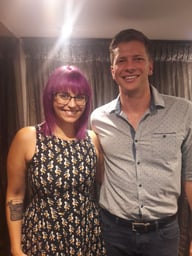 Carly Barnes & James Gous