We kicked off the year 2021 with hopes of seeing signs of recovery from the impacts of COVID-19. However, we continued to experience the impact as we were hit hard by the second and third waves of the virus.
It is nearly impossible to accurately predict the market, but we can only hope for the best – a recovering global market and an end to the COVID-19 pandemic. Let's see how the bundle performed at the beginning of this new year.
Click below for some insights.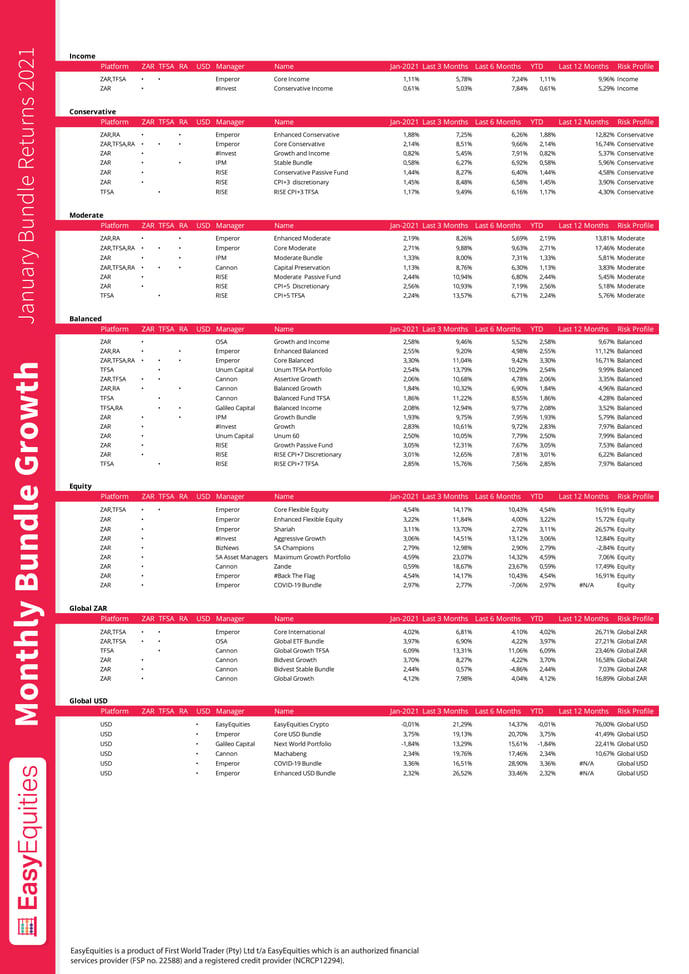 Please kindly note that the data provided above is based on past performances and may not be indicative of future results. Another reminder that we must make mention of this for legal reasons.
The schedule above is provided to give you greater insights into the kinds of bundles we provide. You are, however, the co-pilot that should choose your own bundles and drive your own investment journey.
Happy Investing!
Any opinions, news, research, reports, analyses, prices, or other information contained within this research is provided by an employee of EasyEquities an authorised FSP (FSP no 22588) as general market commentary, and does not constitute investment advice for the purposes of the Financial Advisory and Intermediary Services Act, 2002. First World Trader (Pty) Ltd t/a EasyEquities ("EasyEquities") does not warrant the correctness, accuracy, timeliness, reliability or completeness of any information (i) contained within this research and (ii) received from third party data providers. You must rely solely upon your own judgment in all aspects of your investment and/or trading decisions and all investments and/or trades are made at your own risk. EasyEquities (including any of their employees) will not accept any liability for any direct or indirect loss or damage, including without limitation, any loss of profit, which may arise directly or indirectly from use of or reliance on the market commentary. The content contained within is subject to change at any time without notice.