Yo Easy Fam, some might say 2019 was a good a year to test the waters when it came to those so called risky assets (international stocks), which I did! (Thank you EasyEquities Crypto Bundle 😊). So, let's take a look into bundles and analysing the bundle YTD returns available on the platform from ZAR, TFSA and USD bundles.
A BLAST FROM THE

PAST.
Bundle you say? A bundle is a group of shares, cherry-picked and managed by those really smart peeps who know what's cooking in the markets, brands and listed companies. They do all the heavy lifting for you so your investment choice is #easy.
YTD...

FINANCIAL JARGON?

LET'S MAKE IT

#EASY.
Year to date, aka YTD, refers to the period extending from the beginning of the year to the present. YTD information is useful for comparing performance data or returns to help make those investment decisions easier.
LET'S GET STUCK

IN!
From highest risk to lowest risk, we see that the peeps at Emperor Asset Management had the two best performing Global ZAR bundles with a return of 30.07% and 29.81%, namely the Core International and the Old Stithians Association Global ETF bundle respectively with Cannon Asset Managers coming in third with a return of 20.45% with the Global Growth TFSA bundle. The average return YTD for this category (Global ZAR) was 22.20%.
In the ZAR Equity category, Emperor Asset Management took top spots again with their Enhanced Flexible Equity and Core Flexible Equity bundles which produced the highest returns of 21.41% and 15.61% with #Invest coming in third at 12.70% with their Aggressive Growth bundle. The average return YTD for this category (ZAR Equity) was 8.92%.
TOP TEN

PERFORMING BUNDLES ON OUR PLATFORM, ACCORDING TO YTD RETURN ARE THE FOLLOWING:
| | |
| --- | --- |
| 1. | EasyEquities Crypto with a YTD return of 79.00% available in your USD account found here |
| 2. | Emperor Building Blocks Momentum with a YTD return of 39.74% available in your ZAR account found here |
| 3. | EasyEquities US Exponential with a YTD return of 39.29% available in your USD account found here |
| 4. | EasyEquities Top Stocks 2019 with a YTD return of 33.94% available in your USD account found here |
| 5. | Emperor International Equity with YTD return of 32.83% available in your USD account found here |
| 6. | Emperor Core International with a YTD return of 30.07% available in your ZAR and TFSA account found here |
| 7. | Emperor Old Stithian Association - Global ETF bundle with YTD return of 29.81% available in your ZAR and TFSA account found here |
| 8. | Validea US Warren Buffet with YTD return of 28.48% available in your USD account found here |
| 9. | Galileo Capital Next World Portfolio with YTD return of 26.42% available in your USD account found here |
| 10. | Validea US Growth Stocks with a YTD return of 25.51% available in your USD account found here |
For an overview and more insight into the rest of the bundles and their performance, click on the schedule.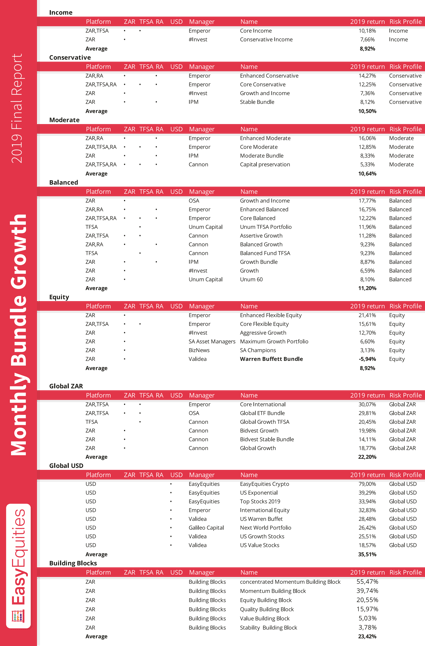 With over R130 million invested in our bundles by the Easy community, that gives you a good indication of what people are putting their faith in.
And (disclaimer alert!) the data above is based on past performances, and may not be indicative of future performance.
This guide serves to give greater insight into the various bundles we provide and acts as a resource to help you pick your wealth creation tool. Stay tuned for the next review, where we will cover bundle performances for the month of January!
Lesedi Mfolo EasyEquities' Drip King
Drip - another word for immense swag.

@LesediMfolo

---
Disclaimer
Bundle data is sourced from the EasyEquities Platform from January 2019 to 31 December 2019. Top 40 and MSCI World data sourced from Bloomberg. Only bundles with 12 months or more of past performance data have been included.
The value of a financial product can go down, as well as up, due to changes in the value of the underlying investments. An investor may not recoup the full amount invested. Past performance is not necessarily an indication of future performance. These products are not guaranteed. Examples are for illustrative purposes only.
Any opinions, news, research, reports, analyses, prices, or other information contained within this research is provided by an employee of EasyEquities an authorised FSP (FSP no 22588) as general market commentary, and does not constitute investment advice for the purposes of the Financial Advisory and Intermediary Services Act, 2002. First World Trader (Pty) Ltd t/a EasyEquities ("EasyEquities") does not warrant the correctness, accuracy, timeliness, reliability or completeness of any information (i) contained within this research and (ii) received from third party data providers. You must rely solely upon your own judgment in all aspects of your investment and/or trading decisions and all investments and/or trades are made at your own risk. EasyEquities (including any of their employees) will not accept any liability for any direct or indirect loss or damage, including without limitation, any loss of profit, which may arise directly or indirectly from use of or reliance on the market commentary. The content contained within is subject to change at any time without notice.