At the start of each year many of us take the time out for the important task of goal setting for the year. A general tip is remembering that our quality of life is not normally determined by knocking off one huge goal in a year; but by making steady progress on small, achievable goals over a long period of time. Our ambitions often include financial goals, given the impact the state of our finances has on our day to day living standards.
Common financial goals include things like:
Becoming debt free;

Improving credit score;

Create and stick to a budget; and

Saving
All these goals are fantastic and can lead to a better life by increasing your disposable income and funds available for emergencies or goals, but we'd like to challenge you to include one other powerful financial goal this year- INVESTING!
Why Invest? Investing is important for several reasons, most important of which is that it builds real wealth. This is mainly due to two factors: the first being because the returns you can make on your investments commonly exceeds the rate of inflation over the long term. A former American president Ronald Regan once said, "Inflation is as violent as a mugger, as frightening as an armed robber and as deadly as a hit man."
Inflation erodes the value of one's earnings and savings over time; when your rate of return is higher than inflation it not only protects the value of your money but makes you better off financially. Added to this is the powerful effect of compound growth.
Compound growth refers to when one earns addition returns from reinvesting your prior returns i.e. making more money off the money your earned from your investments. Over the long-term compound earnings significantly increase the rate at which you can grow your asset base.
At this point I'd just add that if you have high interest rate debt, it is generally advisable to prioritize settling those debts as interest rates can be higher than the return one could earn on investments – this is usually the case, but specific circumstances need to be taken into account.
According to Old Mutual's Long-Term Perspectives, investing in shares as an asset class has proven to be the best way to create wealth over time, as equities have consistently been amongst the best performing asset classes. Investing in equities remains the best way to build wealth and importantly ensure one reaches retirement with enough money.
For example, 1 dollar invested in Berkshire Hathaway when Warren Buffett became CEO, would be worth around 7,000 dollars about 50 years later. Investing, and compounding, really are powerful when done correctly.
The main reasons people hold on to cash rather than investing in shares is the fear of losing money. This is also a key reason people stay away from investing in individual shares. Credible allegations of fraud and dishonesty by management is one of the main causes of severe irrecoverable losses in company share prices.
There are many recent cases on the JSE like Steinhoff, EOH and Tongaat Hullett. Even where a company recovers, when one factors in the value of time and opportunity cost it becomes clear that investors still lost out. Investsure's investment insurance product protects investors from exactly these types of losses; enabling investors to transfer this hard to assess investment risk to a trusted insurer.
So there is a way for you to benefit from investing in shares without having to worry about suffering large losses due to fraud committed by management.
Good luck with your New Year's resolutions this year and remember –
Invest Safely!
The InvestSure Team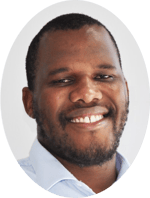 Mbulelo Mpofana
Co-founder, InvestSure
Read more on InvestSure:
InvestSure protection in recent events