We look at the last month of the calendar year in bundle performances. You can catch the best performance of 2019 in this recap for the year, but just in case you want to see how your favourite bundle did in the festive period, then you will definitely want to catch the table below with all the numbers that matter.
Compare and contrast the different bundles we have on the platform, and see which ones brought the festive feeling to investors' pockets. From aggressive to conservative styles, we've got them all in one place, making it even simpler to make a decision on the purchases you make.
For an overview and more insight into the rest of the bundles and their performance, click on the schedule for a larger view.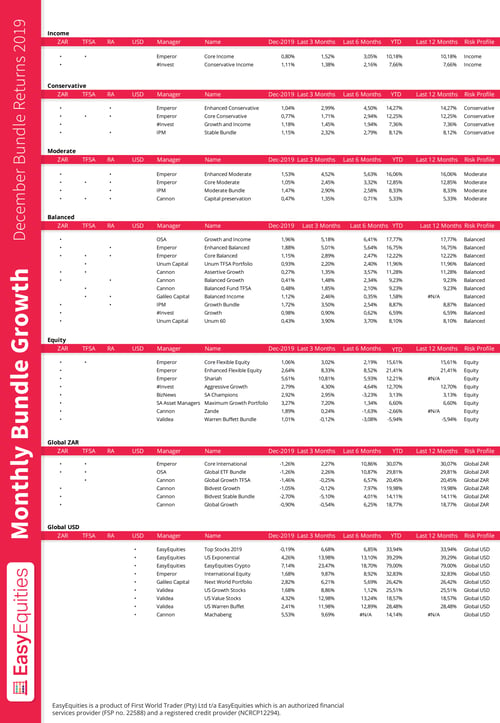 We just need to remind you, before our legal eagles prey on us, that the data above is based on past performances, and may not be indicative of future results. Disclaimer done.
We just create this guide to give greater insight into the various bundles we provide. It's now in your hands how you pick and choose the right co-pilot in your investing adventure.
Don't forget to catch the 2019 bundle review!
Any opinions, news, research, reports, analyses, prices, or other information contained within this research is provided by an employee of EasyEquities an authorised FSP (FSP no 22588) as general market commentary, and does not constitute investment advice for the purposes of the Financial Advisory and Intermediary Services Act, 2002. First World Trader (Pty) Ltd t/a EasyEquities ("EasyEquities") does not warrant the correctness, accuracy, timeliness, reliability or completeness of any information (i) contained within this research and (ii) received from third party data providers. You must rely solely upon your own judgment in all aspects of your investment and/or trading decisions and all investments and/or trades are made at your own risk. EasyEquities (including any of their employees) will not accept any liability for any direct or indirect loss or damage, including without limitation, any loss of profit, which may arise directly or indirectly from use of or reliance on the market commentary. The content contained within is subject to change at any time without notice.