South Africans are increasingly choosing Exchange Traded Funds as their preferred investment portfolio pick - revolutionising the way we invest our money. I for one love ETFs, and the reason for this is the ease of use, cost, and the ability to buy and sell them as you would a normal share on the stock exchange. It provides me with a wide variety of access to top companies, all in one place. Bundles and baskets are another way to gain access to these Exchange Traded Funds.
The ADVISEment bundles, filled with ETFs, are available on the EasyEquities investment account as well as the Tax free Savings Account. Bundles are a managed solution where the creator, in this case, Igor Rodionov actively manages a collection of ETFs for optimised performance and changes the holdings make up when they deem necessary, so you don't have to worry about a single thing! Easy as pie right!
You also have access to different levels of risk. Maybe you are a cautious Suzie, in which case you would be more suited to ADVISEment's conservative bundle, or you are a bold and dynamic Bongani, in which case, you my friend, could look at the ADVISEment aggressive bundle. The best part? no minimum investment amount.
Igor Rodionov, creator of the ADVISEment bundles on EasyEquities gives us more insights to the ETF investment space in this great piece written for Moneyweb.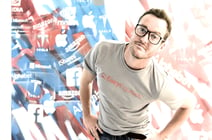 Until next time!
Waylon Smit
ETF, Basket and Bundles Boffin