Our friend from Stealthy Wealth analyses the S&P500 ETFs available on the JSE. Looking into their constituents and what their differences are.

The S&P500 is a popular stock market index which is synonymous with investing in the US. You have probably heard it mentioned in the news, and that is because it is considered to be one of the best representations of the US stock market.
It includes many companies which you know and love like Amazon, Apple, and Nike.
Here is more detail around what exactly is in the index.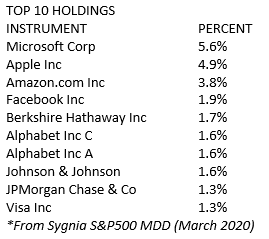 The index is nicely diversified among different companies and no single company dominates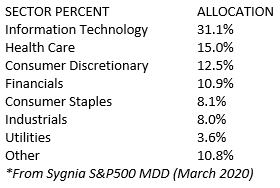 The sectors which the companies operate in are also nicely spread, and the index offers exposure to sectors which are quite underrepresented if you invest purely in South African shares.
One of the easiest ways to invest in the index (and the companies it holds) is through an S&P500 ETF. And fortunately for us, not only are there four S&P500 ETFs to choose from, but they are also some of the cheapest ETFs available to South African investors.
Here are the options (together with the TER (Total expense ratio) and dividend information)

*Info From EasyETFs

In terms of cost, the Sygnia Itrix S&P500 ETF comes out tops. But if you looking to have your dividends reinvested for you, then the Satrix S&P500 is a close contender.*Info From EasyETFs
All in all, an S&P500 index tracking ETF is a great way to diversify your investments and play on a global stage with access to some of the World's top companies – and it is a really cheap too.
And don't forget any of the S&P500 ETFs are available in a Tax Free Savings Account too.
We have recently held some webinars with Stealthy Wealth check them out below:
If you are looking for more information around ETFs check out our EasyETFs site HERE