On the 29th July 2020 we hosted a very informative webinar with Stealthy Wealth, on using ETFs to Invest in your child's education.
During the webinar, Stealthy Wealth discusses how he is using ETFs to invest in his children's education and his approach to doing this.
For a recording of the webinar please click on the Stealthy Wealth image below.

To view Stealthy Wealth's presentation please click on the image below: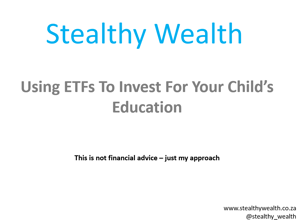 If you want to find out more about ETFs check them out HERE on our EasyETFs site.