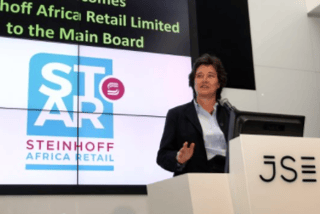 Steinhoff's African subsidiary surged nearly 10% on its market debut on Wednesday, as investors looked past its parent company's legal wrangles in Europe and piled into the continent's retail powerhouse.
Steinhoff Africa Retail, or STAR climbed as high as R22.46 on Wednesday, 9.6% above its initial public offering (IPO) price of R20.50. The IPO raised R15.3 billion ($1.2 billion), making it the biggest in Africa this year and the third biggest ever.
The listing of Steinhoff Africa Retail (Star) brought some much-needed cheer to the JSE on Wednesday, almost doubling the market capitalisation of the retail sector from R91.5bn to more than R160bn.
Within minutes of the opening bell more than 14-million shares changed hands. By the end of the day just more than 69-million shares had traded. Star is the 14th listing to be added to the JSE in 2017.
Its retail chains include Pep, Ackermans, Timbercity, Pennypinchers, HiFi Corp, Incredible Connection and Shoe City. Pep and Ackermans account for the dominant portion of the group's revenue.
Read more here at BusinessDay
To invest in Steinhoff on EasyEquities click here: