A final year student at Wits University recently enlisted my help as an EasyEquities brand ambassador to help him along his mission of getting more students in his hometown to be more financially empowered. Having been part of the JSE Investment Challenge since 2012, Bheki Twala is on a mission, with the help of EasyEquities (as well as Standard Bank) to further educate the youth in Katlehong about investing and wealth creation. The plan had been to have Standard Bank emphasise the value in creating a culture of saving, while EasyEquities underpinned the merit in investing. What we came to find in the Jozi-east township was intense.
We started our journey unsure of what the reception would to our financial literacy tour would be like. Equipped with R50 vouchers (from Easy) and schoolbags from Standard Bank, I wondered if our bribing of the students to get their attention would do the trick. I then figured that perhaps they would need to be given exorbitant figures (return on investment, and savings projections) to wet their collective appetites. And on the drive to Katlehong I further wrestled with the insecurity of whether we had enough incentive to grab and hold their attention.
I couldn't have been more wrong. I had grossly underestimated the youth of Katlehong.
The reality is that township schools generally do not have the same teaching resources at their disposal as private schools. Most of the kids we visited did not have their own email addresses, and no, we didn't take a poll to get the exact figures. Nor did most of them believe, at least initially, that they would even be allowed to invest on the Johannesburg Stock Exchange. The finance industry as a whole still has a long way to go toward actually being inclusive and educating people outside of Sandton about the possibilities at their disposal.
What happened next shocked me out of my own privileged slumber. I asked the students which of the following two options is cooler: buying clothes from Woolies, versus being a shareholder in Woolworths. Each time, the class roared in favour of being a shareholder. That's when it hit me.
Everyone understands the power of money, just not everyone understands that they also have access to that power. The students understood that as a consumer you relinquish that power with each consumable transaction, and that you gain that power back with each stake you acquire as an investor.
Then the real fun began.
Students grilled me on capital gains, dividends, and why I to cut the rest of the class out of my selfie.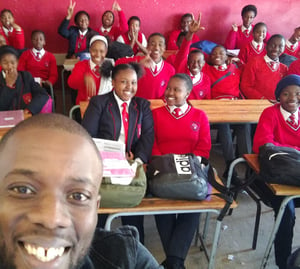 The real story here is not just about how EasyEquities will grow its most passionate community from the classrooms of under-resourced students. They're bright, and have got drive and ambition. They would have found out about EasyEquities and investing in the stock markets one way or another.
The real gem here is Bheki, and those just like him.
His community was invested in him, and the youth are reaping the dividends.
He invested his time and know-how right back into the community that made him. I've written and read stories from our Easy community about clients and investment champions going back home to do the same. The finance industry should aim to address the infrastructures that make it nearly impossible to participate in such spaces. Also, data has got to fall. Bheki has made realise that just as important are the seeds we can plant in the meantime. In the words of the over-quoted Warren Buffett: "Someone is sitting in the shade today, because someone planted a tree a long time ago."


@standwanongauza